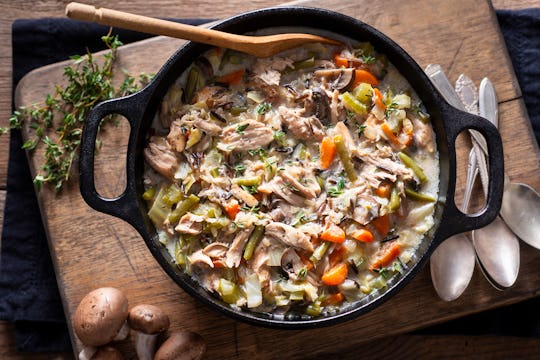 rudisill/E+/Getty Images
Delicious Recipes To Take Your First Day Of Fall Celebrations To The Next Level
No matter how you celebrate Sept. 22, these recipes are sure to be a big hit on this day, and every day this. fall.
Whether you're celebrating the Fall Equinox on Sept. 22 or celebrating Mabon — which is the Pagan celebration of the equinox — food is a tasty, fun, and important part of this day. You definitely have to have a menu of fall equinox recipes to celebrate the first day of fall, and the one time a year where the sun is directly above the equator, and day and night are equal lengths. It also means that summer is just about over, and the cooler temps and coziness of fall are on their way, so why not go for it with the food?
These recipes are the epitome of cozy, comforting, and delicious. Y'all, I am so excited it's the first day of fall, and I'm even more excited to try some of these recipes — it is soup season after all. And crockpot season, and casserole season, and the season of root vegetables, and cinnamon and nutmeg, and of course, pumpkin. The list goes on.
For Mabon, the significant and meaningful foods related to this holiday include apples, berries, grapes, grains, tomatoes, eggplant, peppers, potatoes, carrots, onions, and of course pumpkins, for all of those hearty harvest vibes. And you'll find these ingredients and more in this list.
This article was originally published on