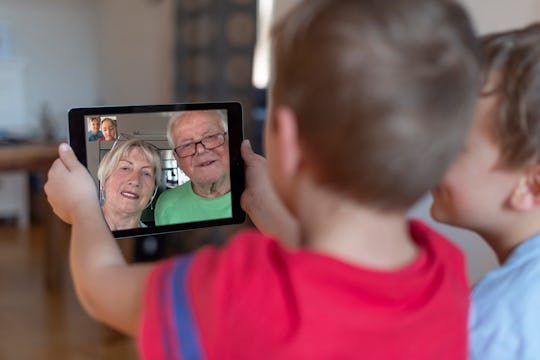 Bernhard Lang/Photodisc/Getty Images
These 20 Fun Video Chat Activities Will Keep Kids & Grandparents Connected
Sure, you love and adore them, but being at home with your kids 24/7 can make you certifiably insane. But even if you're sick of being stuck together, you have to consider the other end of the spectrum of social distancing — the grandparents who are all alone and missing their families. As the go-between, you'll need to come up with some way for them to communicate. These 20 video chatting activities for grandparents and kids will make everyone feel like they're all together again.
Now, let's address the obvious. Grands, bless their hearts, tend to not be too tech-savvy. Myriads of memes have been dedicated to them not knowing how to Zoom, or how to get the video to work. And adding more tech might make them feel not just silly, but older and more isolated, which is the last thing that you want. Which is why you should make even more of an effort to connect the generations. "During this time of crisis, it is even more important for grandkids to connect virtually with their grandparents," Babita Spinelli, a licensed psychotherapist and relationship coach, tells Romper. "For the elderly, staying indoors and isolated is even more imperative, but has heightened loneliness, sadness and anxiety for grandparents who long to see their grandchildren or used to being caregivers for them." Plus, it can create feelings of loss for grandkids who enjoy the presence and participation of their grandparents in their lives.
So, yes, you already have so much to do, but don't forget about facilitating contact between the grandparents and your kids. Keep it simple, keep it sweet, and you'll make memories that will last a lifetime.