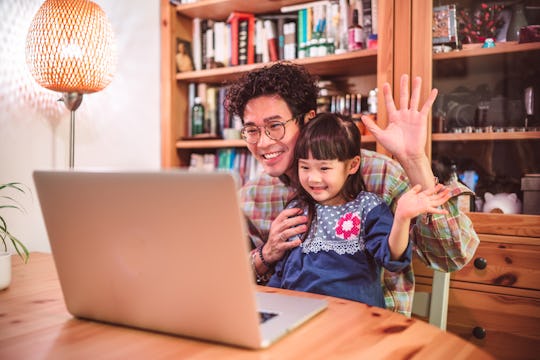 Images By Tang Ming Tung/DigitalVision/Getty Images
These 20 Zoom Family Activities Won't Bore The Kids Or Confuse The Grandparents
Entertaining your kids lately probably hasn't been easy. They're tired of playing with the same ol' toys, and being stuck inside with the same annoying siblings. And with all of the holidays that have happened since the pandemic started, your kiddos are most likely missing the relatives that they used to spend so much time with. But there's still a way to keep that coveted connection to family while safely social distancing. In fact, these 20 Zoom activities for families that are fun, engaging — and possibly tear-inducing, too.
While it might not be exactly the same to watch their aunts and uncles through a screen, it's part of life now. And as parents, we have to do what we can to normalize the experience so that it doesn't adversely affect our kiddos. "It seems like we have all fallen through the looking glass and found ourselves living in an alternate reality where we have been forced into isolation and estrangement from friends, family, and others in our environment," Toni Coleman, LCSW, a licensed psychotherapist and relationship coach, tells Romper. "That's why finding creative ways to connect, share, and find comfort in the company of others is more important than ever."
And if Zoom hasn't become a part of your everyday life yet, well, get ready because it's about to be. Zoom is a great way to video chat with far-off family members — and even those who live right down the road. Because your kids need to feel the comfort and love of their relatives, especially right now.
So get ready to sign onto your Zoom account and stay connected to those you love the most, with activities that will make you laugh, cry, be grateful for today, and have hope for a better tomorrow.