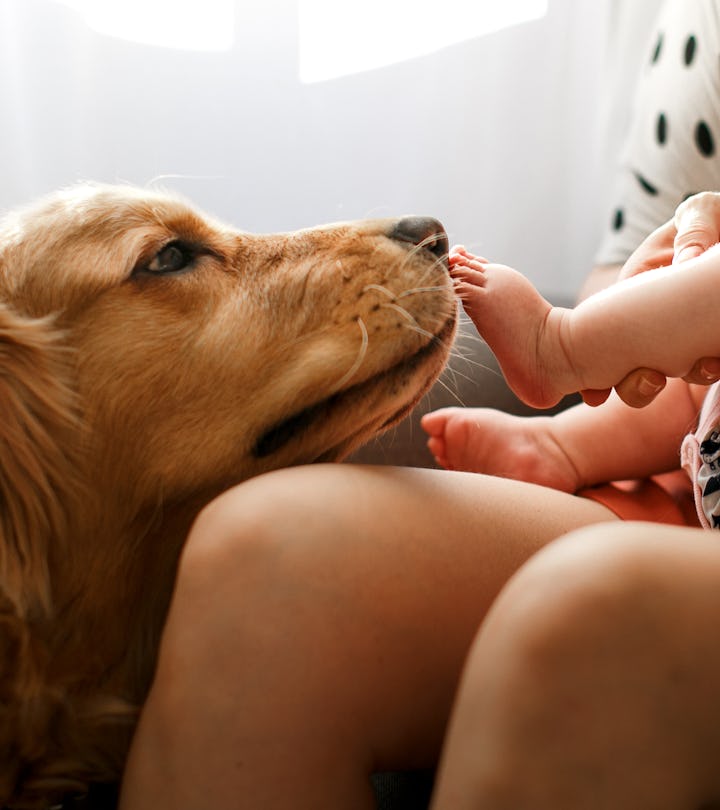 Cheng NV/E+/Getty Images
These Dogs Met Their Tiny Humans For The First Time & Now They're BFFs
Even pups can't resist the smell of a new baby.
When fiercely loyal canine companions meet a new addition to their family, cuteness typically ensues. These 30 photos of dogs meeting babies for the first time pretty much cover the range of cute, from a curious bulldog to skeptical spaniels.
Our dog Gracie sniffed and sniffed (and sniffed) our son until she couldn't sniff anymore when my husband and I brought him home for the first time. Then, she cuddled up all 50 pounds of herself at the foot of his swing in the middle of our living room, which remained her spot to hang out until he eventually outgrew the swing. Their bond was incredibly sweet and the source of lots of charming photos over the years.
Introducing your dog to a newborn can be intimidating, but more often than not, pups are more than happy to welcome a new human to their crew. Although it's usually love at first sight, some dogs do have mixed reactions when they first meet their newborn human siblings. Extra sniffing, looks of confusion, and even indifference can occur at first, but even these responses create purely adorable photo ops.
Dogs don't have the moniker man's best friend for no reason. From the looks of these photos, these dogs and their new baby humans are set to be BFFs for life.