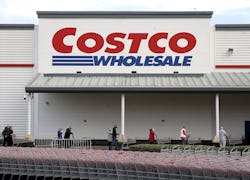 41 Costco Appetizers To Level Up Your Super Bowl Party
Martin Rickett - PA Images/PA Images/Getty Images
There are two schools of thought when it comes to the Super Bowl. There are what can easily be called the diehard fans, painting their faces in their team's colors, standing in front of the TV, screaming "What kind of call was that?!" and generally just losing their dang minds. And then, there's the rest of us, who show up at Super Bowl parties for the snacks and other tasty treats. But whether you're hosting a Super Bowl shindig or going to one as a guest, you'll want to know about these Costco appetizers that make the best party foods.
In 2022, it's the Los Angeles Rams playing against the Cincinnati Bengals in what promises to be a really amazing Super Bowl LVI. But here's what's even more amazing: the amount of Costco finger foods you can give to your guests when they come to watch the game. Because that's the beauty of buying in bulk; you can feed a full house, even when said crowd is rowdy — and ravenous.
So if you prefer to sit on the sidelines (and stuff your face) while the rest of the room goes nuts, you can partake of any of these Costco appetizers that are winners not just in quantity, but quality, too.
No matter what everyone is craving, these Costco finger foods should find their way into your shopping wagon on your next trip to the store. And then, come Game Day, you can have supersized snacks for your Super Bowl party that will have everyone gathering (and noshing) in the end zone.
This article was originally published on