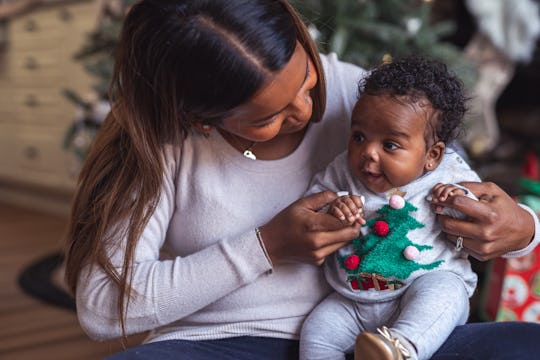 Fly View Productions/E+/Getty Images
30 Sweetest Holiday Gifts For New Moms Who Are Exhausted, Hungry, & Overwhelmed
She's definitely on Santa's "nice" list this year.
Babies are up at all hours of the night, only communicate through crying, and (despite their adorable gummy smiles) have the ability to suck the life out of their parents. Knowing this, if you are searching for a holiday gift for a new mom, it may be tough to decide where to start. Take comfort because, unless you are the Sandman and know how to give the gift of sleep, the new mom in your life will be happy with anything that will help her feel a little less exhausted and a little more like herself.
While she'd probably love a full day at a spa or an all expenses paid vacation (if she's being honest), those kinds of gifts aren't exactly budget-friendly. Yes, you should spend that dough on her if you can, but it doesn't have to cost a fortune to help a new mom feel a little rejuvenated. It simply takes a little time to focus on what will help her out in this particular stage of life.
If you're still scratching your head, here are 25 gifts, across a variety of budgets, that a new mom would be overjoyed to find under her tree. When deciding what to get her, just remember she's short on time, sleep, and brain power (mom brain really is a thing).
We only include products that have been independently selected by Romper's editorial team. However, we may receive a portion of sales if you purchase a product through a link in this article.
This article was originally published on