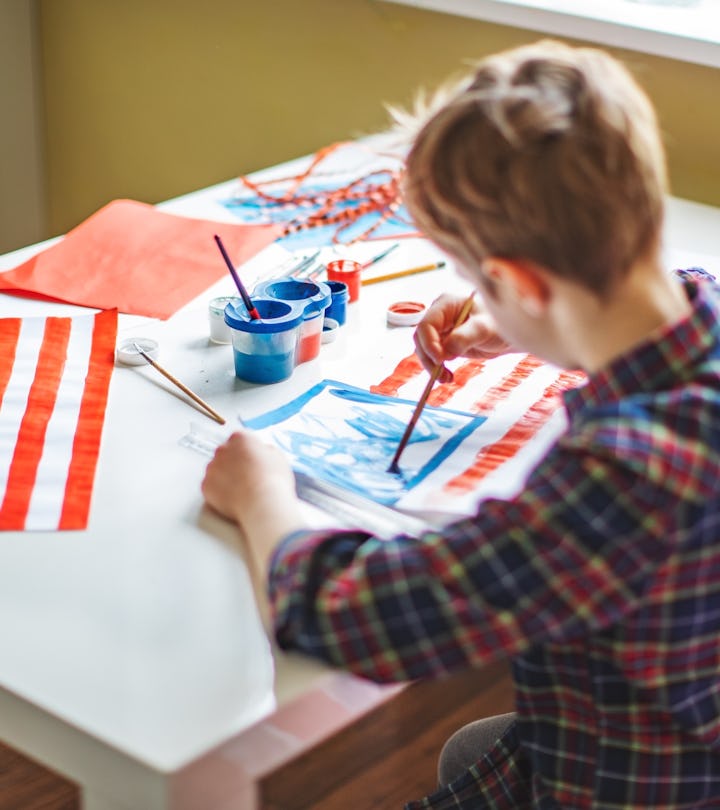 yulkapopkova/E+/Getty Images
Celebrate America With These 4th Of July Crafts For Kids
They're almost as fun as a fireworks show.
Keeping your kids entertained all summer long can be difficult. I'm not usually a crafty person, but on a hot summer day, sometimes I just let my kids go for it for the sake of staying inside and out of the sun. These 4th of July crafts for kids are a fun way to beat the heat, keep your kids occupied, and celebrate America's birthday in one fell swoop.
Some crafts like wreaths, candle holders, and garland can add a pop of color and a burst of patriotic flair to your home. This is especially fun if you plan to host guests for an Independence Day get-together like a barbecue or pool party. (Because we finally can!) One craft in particular — recycled table lanterns with glow sticks inside — can even be used to illuminate your outdoor space in all of its red, white, and blue glory.
From tie-dyed tees to parade wands, there are also plenty of crafts on this list that your kids can use to celebrate the holiday with a flourish of stars and stripes. Let your child's creative juices flow with an array of red, white, and blue crafts that look almost as sparkly as the 4th of July fireworks themselves.