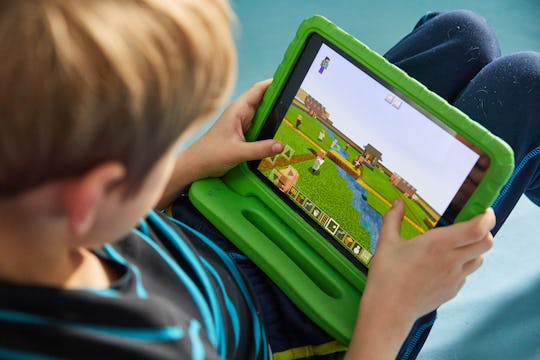 picture alliance/picture alliance/Getty Images
7 Building Apps To Download If Your Kid Can't Get Enough Minecraft
My kids are on screens more than ever right now, and games like Minecraft, where they can build and create, are usually a hit. They play it non-stop. Like me, you might be looking for new building apps if your kid can't get enough Minecraft. Because, let's face it, they're going to ask to download something new eventually — they always do.
Minecraft draws out some sort of deep-seeded architectural skillset that I wasn't even aware my kids possessed until I stopped to watch them build one day. It's pretty phenomenal, and if you've ever sat in complete awe of a 6-year-old's complete pixelated re-creation of their favorite superhero sitting inside an imaginary theme park world they built themselves, you totally get it.
Minecraft also offers kids the opportunity to practice virtual survival skills like gathering food, building shelters, and protecting their virtual selves and property from threats. My kids are forever fighting over whether or not they should play the game in "survival mode" for fear that one player (*cough* *cough* my youngest) will inevitably succumb to a zombie attack.
These building apps are similar enough to Minecraft that they'll keep your kids occupied, but different enough that they'll be excited to take the time to learn how to play and navigate all new worlds. Keep these apps in mind the next time your kids are endlessly scrolling to decide which game to download next.