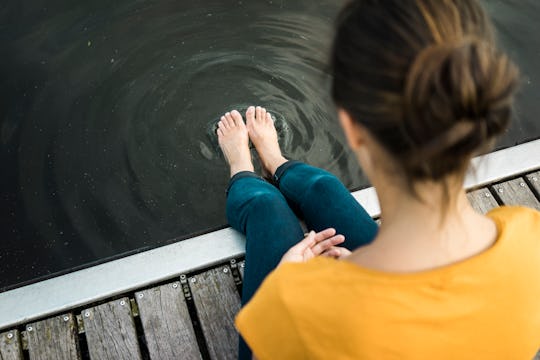 Westend61/Getty
7 Signs You Need A Break From Your Partner During Quarantine
It's a lot of together time.
By now, you might have lost count of how many days (months? years?) it's been since quarantine started and you had an evening to yourself without your partner. After months of a lot of togetherness, you could be feeling a sense of cabin fever and showing signs you need a break from your partner. Don't worry though, because despite what Ross and Rachel have taught you, sometimes a little break can be a good thing.
It's safe to assume that this pandemic hasn't been easy on anyone and even the strongest relationships have been tested a little bit. "Nobody prepared couples for navigating a pandemic in their pre-marital counseling sessions," licensed professional counselor, Kirsten Brunner, M.A., tells Romper via email, "Now there is an excess of together time and it is to be expected that couples are getting on each others nerves." For the couples that were rocky before all of this started, it might be even harder, marriage and family therapist Jenny Limm, MFT, M.Ed, tells Romper. "If a couple had been struggling to find intimacy and communicate effectively before the pandemic, it's not surprising that this couple may be at their breaking point."
What's difficult is that not always obvious when you've reached the point where you need a break from your partner under normal circumstances, let alone in quarantine. Right now, your ability to tolerate your partner's annoying quirks may be declining, but that's to be expected. Here are a few feelings and behaviors that may indicate it's time to take a little break.