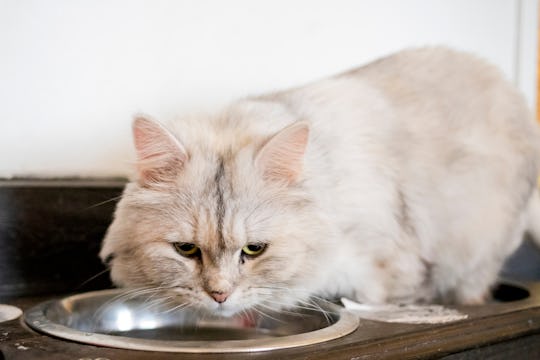 Shutterstock
Here's How To Tell Your Cat Is Overheated & Needs Help Cooling Down ASAP
They definitely don't do well in super hot conditions.
Although they are originally desert animals, house cats aren't built to withstand extreme heat for long periods of time. Like people, cats are also vulnerable to heat exhaustion or even heat stroke. Scary, right? So, it's important to watch out for signs your cat is overheated, especially during the summer months as temps rise. When you know that to look for, you can make sure Fluffy stays nice and chill.
In general, overheating is a serious condition in cats. "In spite of their reputation as desert animals, cats do not tolerate heat any better than people," Dr. Adam Christman, veterinarian and board member of the New Jersey Veterinary Medical Association (NJVMA), tells Romper. "Cats only pant or sweat through their foot pads in order to get rid of excess heat," unlike humans who have the benefit of sweat glands to keep cool. The increase in body temperature can lead to heat exhaustion, heat stroke, and even death, he cautions.
There are many ways to help prevent your cat from overheating in the first place. "In order to keep cats healthy overall, I always recommend keeping your cats indoors and plenty of air conditioning in their home," says Christman. In general, access to a cool, well-ventilated and shaded environment, as well as plenty of fresh drinking water, can help keep your cat safe from these heat-related dangers.
Keep reading to familiarize yourself with the signs of heat exhaustion in cats, and if you are concerned at all that your kitty might be at risk, monitor your pet closely and contact your vet right away.
Remember that your feline isn't immune to extreme temps, so observe them closely on extremely hot days. By keeping a watchful eye on your kitty and keeping their living conditions just right, you can protect them from the complications that heat exhaustion can potentially cause.
"If a pet is suspected to be suffering from heat stroke, a pet parent can put cool or room temperature water on the pet, as well as a fan, to help cool them via evaporation. It is important to not put ice cold water on them, as this can constrict the blood vessels in the skin and make it more difficult to dissipate heat," Lyons explains. "If there is any concern for heatstroke, the pet should always be evaluated by a veterinarian as there can be severe complications that families won't be able to treat at home."
Experts:
Dr. Adam Christman, veterinarian, board member of the New Jersey Veterinary Medical Association (NJVMA)
Bridget M. Lyons, VMD, DACVECC, Assistant Professor, Small Animal Emergency and Critical Care, University of Missouri College of Veterinary Medicine
This article was originally published on