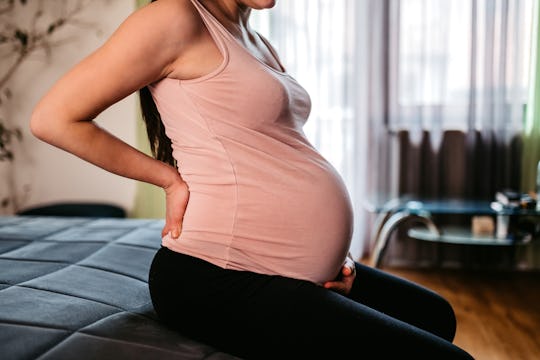 urbazon/E+/Getty Images
Lightning Crotch Can Actually Tell You These 7 Things About Your Pregnancy
For many people, experiencing a pregnancy involves some pretty wild moments you never expected. Lightning crotch is one of those common pregnancy experiences that doesn't necessarily get talked about all that much (but can seem like a pretty big deal when it's happening to you). Here's what you need to know about that "zap" feeling down there, as well as what having lightning crotch means about your pregnancy in general.
"Lightning crotch is quite the colloquial phrase to describe the sharp, jolt-like, stabbing, electrical, or spasmodic sensations felt during pregnancy," Dr. Richard Beyerlein, gynecologist and obstetrician, tells Romper in an email. Although this shock of pain can stop you in your tracks, it's typically short-lived. So what causes this jolt? "'Lightning crotch' isn't specific to one particular type of pain, but is most commonly the term used to describe round ligament pain," Jacqueline Battistelli, MD, FACOG, OB Hospitalist at The Children's Hospital of San Antonio, tells Romper. Pelvic pain is not at all uncommon during pregnancy, and as long as it isn't associated with other symptoms such as vaginal bleeding or fever, it's generally harmless, as Dr. Battistelli further explains.
In addition, the shocking sensation can happen to anyone, and Hilary Duff was recently very open about her experiences with lightning crotch. (It's about time more people started talking about this part of the pregnancy process.) Plus, it's even possible to experience lightning crotch when you're not pregnant, caused by anything from cervical cramps to a UTI. But for those who are expecting, here's what lightning crotch can potentially tell you about your own pregnancy.
This article was originally published on