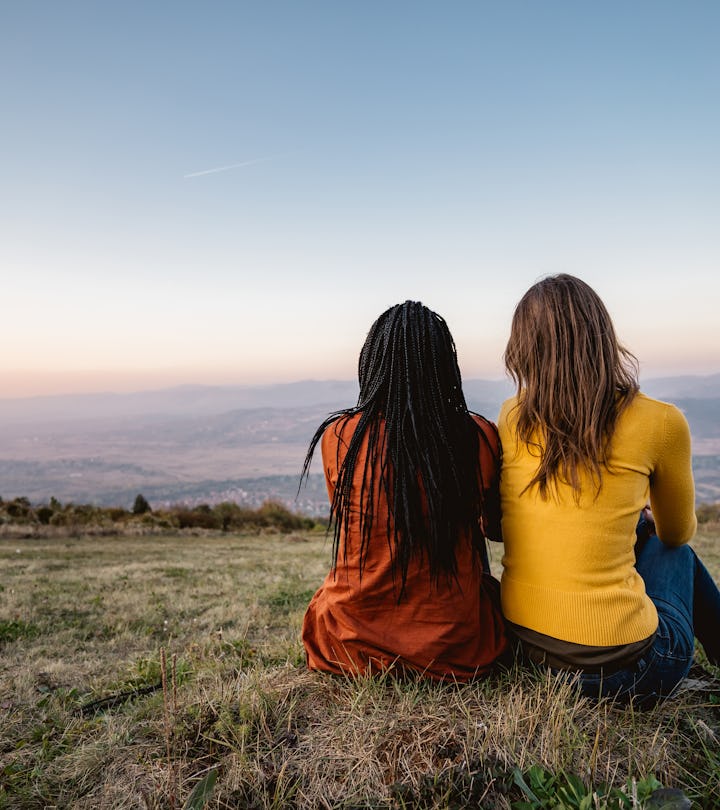 urbazon/E+/Getty Images
11 Things To Say To Someone Who Just Found Out They Were Cheated On
Non-judgmental compassion is the best approach.
If you've ever been cheated on, then you know just how violating and devastating that experience can feel. So if your friend or family member is going through the same thing, you probably want to offer some words of comfort. Knowing what to say to someone who got cheated on can make all the difference. Because the person who was cheated on is in a vulnerable place, it's important to make sure your words of support are well-received.
Although it can be a life-altering shock, cheating is not uncommon, and no relationship is totally immune to it. Responding to your loved one with care and compassion is key. "In short, to be helpful, focus on being understanding and showing support rather than pushing advice or making judgmental statements that might make someone's pain even worse," Jason B. Whiting, Ph.D., licensed marriage and family therapist, tells Romper. Also, hold off on any immediate plans for revenge against the person who cheated. "If your first instinct is to let your friend know that you never liked their partner anyways and that they are better off without them, you are falling victim to idiot compassion," Dr. Alexandra H. Solomon, licensed clinical psychologist at The Family Institute at Northwestern University, tells Romper. Idiot compassion refers to a situation where your advice may be well-meaning but is ultimately unhelpful.
"Opt instead for wise compassion," Solomon says. "Practicing wise compassion is about loving your friend without hating their partner. It is about staying present to their pain instead of rescuing them, problem-solving for them, or telling them what this means to them." Although this more mature take is far from easy, here's what you can say to a loved one whose relationship has just hit the fan.
While you could pick from any of these encouraging words for someone who has been cheated on to cheer up your friend, the most important thing you can do is simply be there for them and let them know you have their back. Cheating is a devastating situation, and your friend can use all the support and love they can get.
Experts:
Dr. Alexandra H. Solomon, clinical assistant professor in the Department of Psychology at Northwestern University, licensed clinical psychologist at The Family Institute at Northwestern University, author
Jason B. Whiting, Ph.D., Licensed Marriage and Family Therapist, researcher, relationship blogger, and author
Cherlyn Chong, breakup and dating specialist from Steps to Happyness
Natalia Juarez, breakup coach with Lovistics
This article was originally published on