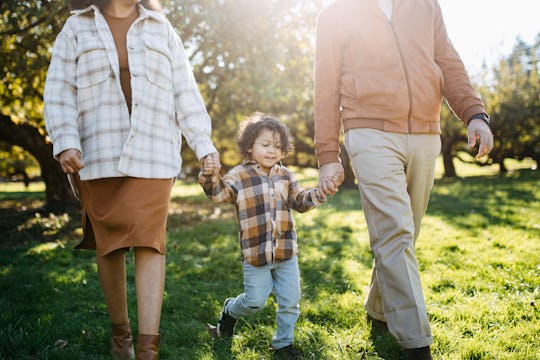 RyanJLane/E+/Getty Images
8 Surprising Ways Infidelity Affects Your Kids, According To Experts
It's not as bad as you think.
Cheating can be devastating to any relationship, but what happens when you have kids together? Even if you and your partner decide to work out your issues, if your child somehow finds out about the affair, it can make things even messier. If you're wondering about the effects infidelity has on kids, you might be surprised (and relieved) to know that it's not all doom and gloom — if you handle it the right way.
Everyone in a family is affected by an affair, in one way or another. Whether it's seeing the parent who was cheated on angry and upset, or seeing the cheating partner feeling guilty, it's important to keep in mind that these are big emotions for everyone, especially little kids. And while cheating might feel like a deathblow to a relationship whether you decide to stay together or not, you're still going to have to work out some very real (and raw) feelings that your child might have about it.
Even though it might seem like there's no relationship rebound from an affair, it's important to keep in mind that, even in the middle of such a mess, your role is that of a parent. After all, your child's needs come first. So be sure to put your kiddo's emotional well-being first as you forge ahead with your life, and understand the ramifications when infidelity makes its way into a relationship so that you can help your child handle their own emotions.
The discovery of an affair is gut-wrentching for everyone involved, but especially so for your child. Be sure to allow them to express their emotions so that their feelings are heard and validated. You might even want to seek support if necessary so that everyone gets the care (and counseling) they may need during this turbulent time.
Study Cited:
Weiser, D., Weigel, D., Lalasz, C. 2015 "Family Background and Propensity to Engage in Infidelity"
Experts:
Kimberly Friedmutter, author of the best-selling book Subconscious Power: Use Your Inner Mind to Create the Life You've Always Wanted
Dori Shwirtz, a marital and family mediator at divorceharmony.com
Dr. Cassandra LeClair, Ph.D., a relationship expert and author of Being Whole: Healing from Trauma and Reclaiming My Voice
Tatyana Dyachenko, a sexual and relationship therapist