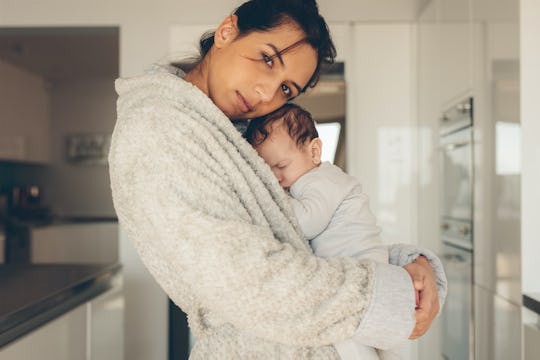 Jacob Lund/Fotolia
8 New-Mom Jokes That Actually Make Post-Baby Life *Way* Harder
New-mom jokes that poke fun at parenting are for the damn birds. As if a hellish pregnancy, painful delivery, and tirelessly caring for a tiny human isn't hard enough, right? You think any new mom wants to hear a joke at her expense? The answer is hell no. I don't care how funny you think you are, how many moms you've tested your material on, or how well-meaning your intent may be. There are too many new-mom jokes that actually make post-baby life harder, and that's not the goal here, people. The goal is to support a woman recovering from childbirth and adjusting to life as a mom.
When I had my first child, I was already swimming — no, drowning — in anxiety and insecurity. I didn't know what in the hell I was doing, but I definitely felt compelled to get it right the first time. Yeah, "get it right the first time" didn't happen. Becoming a mom and caring for another human being every hour of every day wasn't something ingrained in me. I made a lot of mistakes and it felt as though no matter how hard I tried not to do the "wrong" thing, I did the "wrong" thing. It was learning one lesson after another, and that really hasn't changed now that I'm 10 years into this whole parenting thing. One thing that has and probably will always help, though? A good partner. A supportive family. A great doctor. But what didn't and will never help was hearing jokes that poked fun at my insecurities and made me all the more apprehensive when it came to taking care of my newborn.
So, no: your jokes aren't funny, people. New moms don't need another thing to make them feel bad. Believe me. As someone who sometimes struggled to even get out of bed, I didn't need a jab about how my daughter was dressed, or my appearance, or how "funny" it was that I wasn't getting an ounce of rest. I needed support and compassion and help. So with that in mind, here are some of the jokes that really, made my life as anew mom so much harder.