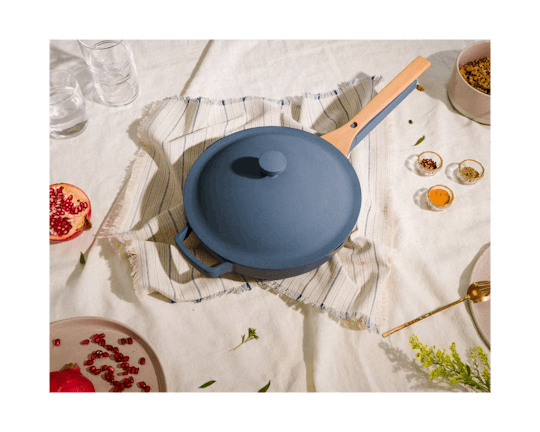 11 Recipes To Make In Your Always Plan
Delicious meal ideas for Our Place's Insta-famous pan.
If you've been on Instagram in the past two or so years (and who among us has not?) then chances are you've seen an ad (or 500) for Our Places' Always Pan. The pans, which have amassed a loyal following, are coated in non-stick ceramic so they're non-toxic; they come in an array of mostly pastels and some matte brights that look just as suited for a millennial-aesthetic store as they do the stove. Whether you're a long-time fan of the Always pan or have yet to even open the box, these Always Pan recipes prove how versatile this kitchen cool can be.
If you're to drop $145 on a pan, you'll want to make sure you actually, you know, cook with it (as opposed to stare lovingly at its beauty). These Always Pan recipe ideas are wonderful one-pan ideas that will get you out of a cooking rut, plus many of the recipes are kid-friendly or can be tweaked to be. And rest assured that whatever kind of cooktop you have (yep, even induction) is compatible with the Always Pan. Designed to replace eight traditional pieces of cookware, as the brands' website says, the pan comes with a spatula, spoon rest, and steamer basket.
And yes, when you cook with it it's going to get dirty and splashed, but rest assured that soapy water and a sponge will get it looking great. Read on for Always Pan recipe ideas that will get you excited to cook dinner (and clean it up because it's only one pan).
Whether you've been thinking about buying the Always Pan (those ads will get ya) or you already have one, these recipe ideas are crowd-pleasers, and they're a breeze to clean up.