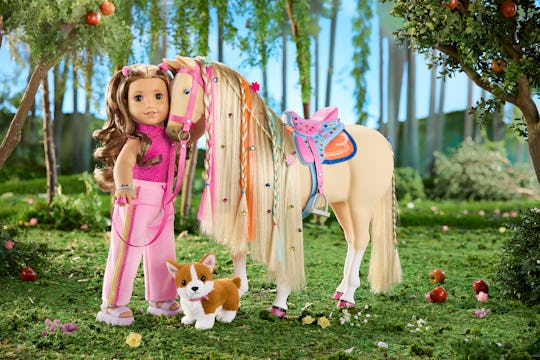 American Girl
Meet Lila: American Girl's 2024 Girl Of The Year Doll
American Girl's Girl of the Year collection just received its latest addition: Lila Monetti. The 2024 American Girl Girl of the Year doll is being released earlier than usual, and kids are going to love Lila and her story (not to mention all of her amazing accessories).
Like her predecessors (and all dolls in the American Girl collection), Lila Monetti is a 10-year-old girl with big hopes and dreams. From St. Paul, Minnesota, Lila is a gymnast who has been training for years and a horseback rider who's just joined the sport. In her first story, Lila, by Erin Falligant, kids will get a glimpse into Lila's own journal where she writes about the bond she has with her a horse named Hollyhock and the nerves she feels about joining a competitive gymnastics team without her bestie and fellow gymnast Katie.
She sounds just like every other 10-year-old girl you know, right? That's the true beauty of the American Girl doll brand, especially the Girl of the Year collections. These characters come with big hobbies and worries and fears, and of course, big-time accessories.
The 2024 American Girl Girl of the Year doll is a gymnast and a horseback rider, so of course her accessories include some pretty amazing pieces. In addition to Lila's horse Hollyhock, the stable corgi Mighty Mae, and all of her outfits and personal items like cellphone and leotard, Lila's playset options are a gymnastics equipment set — featurin uneven bars and a balance beam — as well as an entire Honeycrisp Hill Horse Stable big enough for both Lila and her horse to fit in.
The entire American Girl Girl of the Year 2024 collection will be available Oct. 4, just in time for the holidays. The Lila doll will come with her paperback (and the perfect pink outfit) for $115, and her accessories and additional playsets range in price from $20 to $175. You can find the entire collection online now.