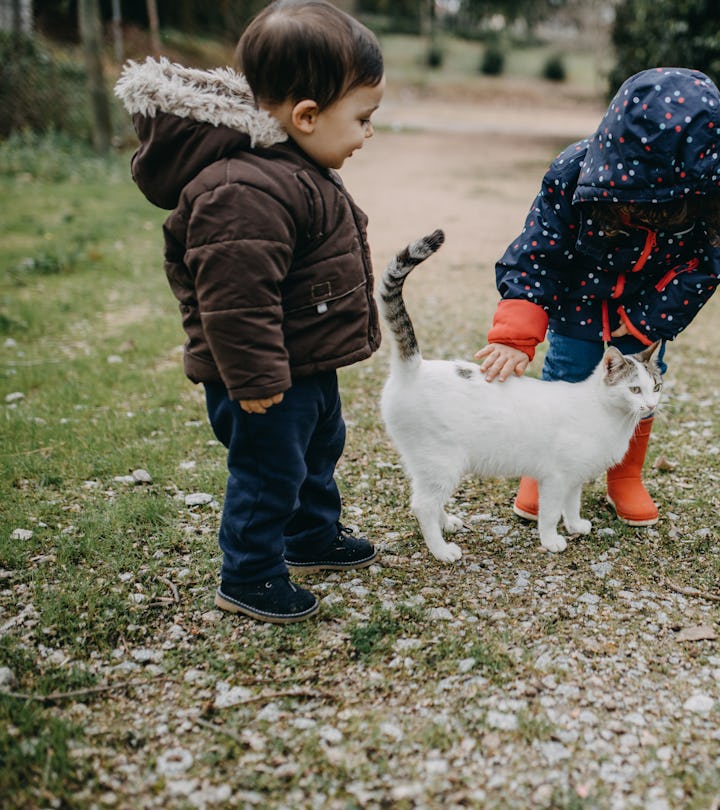 Paulo Sousa / EyeEm/EyeEm/Getty Images
14 Hilarious & Harmless April Fools' Day Pranks To Play On Your Cat
Cats are pretty easy to mess with. They hate water, glass confuses them, and they'll treat a loose string like public enemy number one. They're also pretty vain, so they're easy to embarrass — or at least it feels that way. So you're kind of obligated to at least look at this list of very good-natured, totally harmless pranks to play on your cat this April Fools' Day — they just make it too easy.
Most people who are familiar with cats know they startle easily, jumping unnaturally high when they see anything they aren't prepared for. A viral trend from 2015 featured videos of humans scaring their kittens with cucumbers, as you may remember. Back in October of 2011, we found out that my cat Molly was scared of gourds before this was a viral trend. Before knowing she was scared, obviously, my husband and I set up some decorative gourds around the apartment and she immediately growled at them, tried to attack them, and then fled away with her haunches up to hide under the couch. So way to be a trendsetter, Moo-Moo. Too bad we didn't get a video, I guess.
Keep in mind, however, that intentionally frightening your cat is a bad idea because they could accidentally injure you, break household items, and develop anxiety. Anxiety in felines can lead to "unwanted behaviors such as urinating inappropriately, scratching household items, or being aggressive," none of which will make you or your pet happy.
It goes without saying that you should never try to hurt or cause stress to your pets for any reason, but there are some harmless tricks you can play on your cat for the sake of April Fools' Day. Read on for 12 cat pranks, and be sure to give them some extra love after you do.
As long as "pranking" your cat really just means giving them a little more play time and attention on April 1, we're all for it. Have fun with your sweet kitty!
This article was originally published on