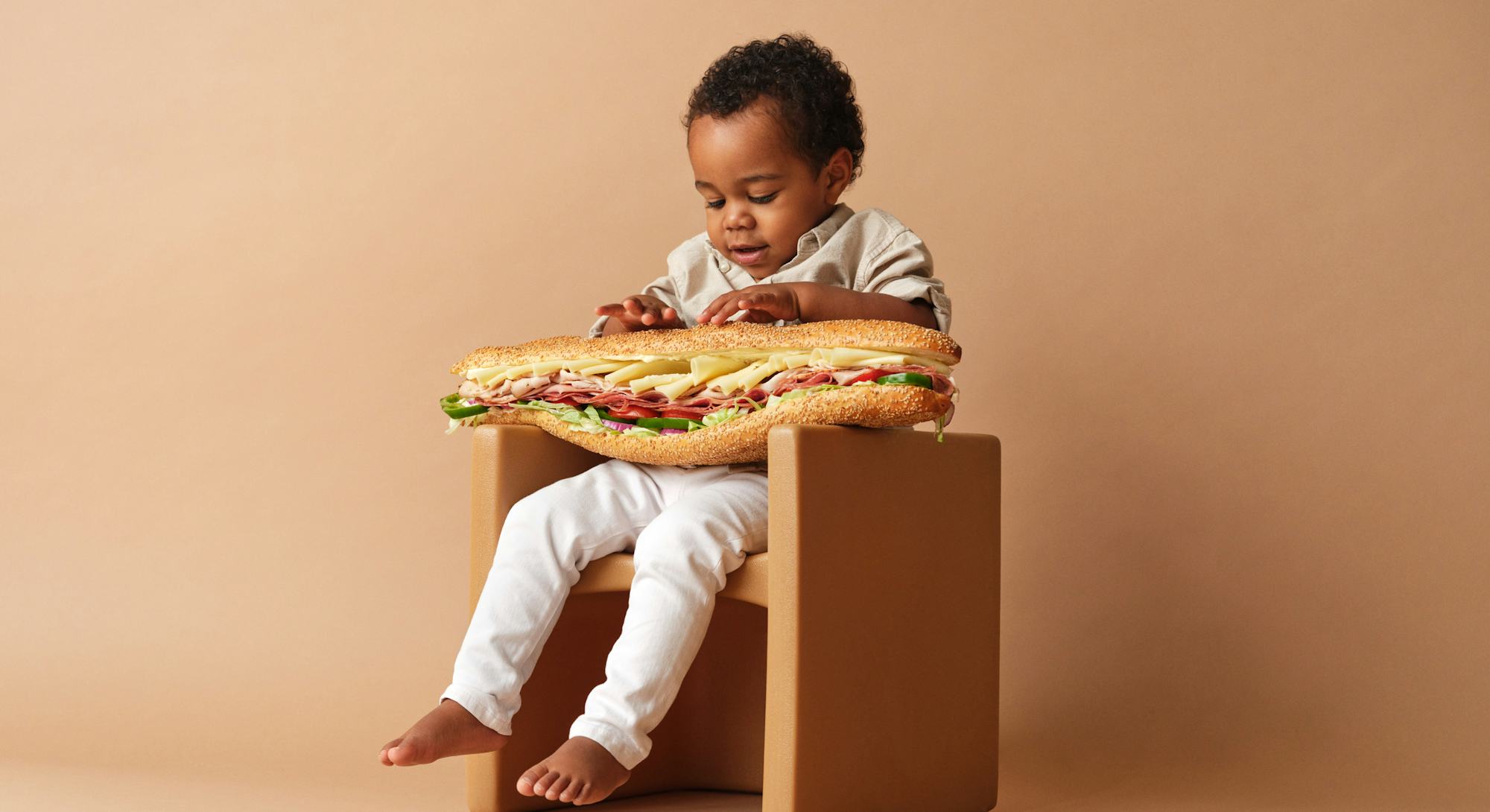 Can The Baby Have That?
Spare ribs. Whole mackerel. Asparagus spears. In the world of baby-led weaning, all food is baby food. Solid Starts shows parents how it's done.
For the anxious new parent, the Solid Starts "Gagging and Choking" video must initially play like the mashup from hell. Addie, 9 months, retches silently on a string of unchewed asparagus. Riley, 6 months, and Maeve, 7 months, curl their tongues into spoons as they strain to expel hunks of banana they just stuffed into their mouths. Reza, 7 months, who moments ago was calmly palming hunks of cooked beet, now heaves.
Fortunately, beside Reza is Solid Starts senior feeding and swallowing specialist Kary Rappaport. Rappaport doesn't panic, because Reza isn't choking. He's gagging, explains a matter-of-fact voiceover, which "may be dramatic but is not a medical emergency." In fact, it's a powerful, built-in reflex that automatically protects infants from swallowing pieces of food too big for their throats. "Nature has your back," the voiceover intones.
"You can spit it out," Rappaport says to Reza in that universal talking-to-babies tone as he gags. "You can get it forward, you can." Finally, Reza coughs, and out slides a gnawed black cud. "There, you got it! You got it out."
Once your blood pressure normalizes, you may recognize the sorcery this video performs: It suggests that a parent's worst fear — OK, one of them — is mostly unwarranted. Your baby will not automatically choke if she is allowed to grab a crust of bread off your plate. In fact, she might be able to figure it out. Which means you might not have to persuade her to eat spoonful after spoonful of rice cereal that looks and smells like kindergarten paste.
That idea is one of the central tenets of baby-led weaning, a method of feeding babies that was once a fixation of dogmatically crunchy mom blogs but is now America's ascendant feeding philosophy. The name is misleading. Baby-led weaning is not so much about weaning babies off of breastmilk and formula as it is about when and how they begin eating solid food. Baby-led weaning says all food can be baby food, an idea now espoused by millions of parents, across an impressive ideological range. Baby-led weaning appeals to "clean" eaters suspicious of processed food and to readers of Eater and The Infatuation who would rather have a poor sleeper than a picky eater. It appeals to working parents who reject the domestic labor of spoon-feeding homemade purees and to stay-at-home early childhood development nerds who buy Montessori toy subscription boxes and hold forth, interminably, on the benefits of RIE. Baby-led weaning does not always appeal to grandparents — what was wrong with parent-led feeding? — and it has been known to make pediatricians roll their eyes, but for adherents, the establishment's rejection is only proof of the evolution it represents.
#BLW, as it is called online, is all over TikTok, it is on Good Morning America, and it is trumpeted as the answer to food aversions and allergies, as well as a way to teach good boundaries. There is now a BLW-compatible baby food delivery company. So many videos of babies eating adult-sized portions of meat have been posted across social media recently, it prompted a New York Post article: "Millennial parents dragged for letting their babies gnaw on chunks of meat." When I tested my group chat's awareness of baby-led weaning, no one over 45 knew what I was talking about, but everyone under 40 did, even those without kids. That happened thanks in part to the massively popular Instagram account @SolidStarts and its founder, Jenny Best, who applies the current moment's evidence-based "gentle" parenting philosophy to food and nutrition.
Best, a New York City-based mother of three, isn't your typical momfluencer: a former New York City Ballet dancer, she went on to work for the New York City government, then for an anti-hunger organization in rural Kenya until 2015, when her first child, a son named Charlie, was born. When Charlie was 6 months old, she started him on solid food by spoon-feeding him purees, the way most parents in the U.S. do. (Today, many pediatricians recommend starting food in this way at 4 months.) Charlie pretty obviously wasn't into it, but Best, a Nevada-born, self-described "go big or go home kind of a gal," persevered. As the months passed, she became a broken record of "just one more bite" and tried distracting him with toys and screens while she snuck bites of food into his mouth. Afraid he would choke and trying to contain the mess, she stuck to purees, but he ducked or tried to grab or bat away the spoon or pouch.
"I got really stressed out, and the more anxious I felt, the more I was trying to get him to eat. And the more I tried to get him to eat, the worse it became," Best says. By the time Charlie was 18 months old, he refused almost all food. His pediatrician wanted to discuss installing a feeding tube. "I remember feeling like such a failure."
"My well intentioned efforts were being felt by my child as pressure and control, which was in turn, leading to more food refusal," says Solid Starts founder Jenny Best.
The next year was a blur of mealtime tantrums and appointments with specialists: gastroenterologists, pediatric dietitians, feeding therapists. Their diagnosis was that Best's exclusive spoon-feeding, coupled with her efforts to coerce Charlie into eating, had either caused his avoidance or exacerbated it. "It was a huge 'aha' moment: my well intentioned efforts were being felt by my child as pressure and control, which was in turn, leading to more food refusal."
She coped by entering research mode, trying to understand where she had gone wrong, and discovered baby-led weaning. BLW is the brainchild of British nurse and author Gill Rapley, Ph.D., who began writing about it in the early 2000s. Food is introduced when the baby can sit upright and bring food to their mouth on their own, usually around 6 months. They eat a diverse array of finger food from the get-go, ideally adapted from the same meal the rest of the family is eating. Purees are either excluded altogether, or the baby holds the spoon and works to deliver the mush to their own mouths. By waiting to introduce food until the baby can self-feed, the thinking goes, parents can bypass tiny jars of pulverized peas entirely and raise happier, more adventurous eaters. No "here comes the airplane," no cooking two meals, no agonizing about which baby food brand is the best. Just a family enjoying an Alison Roman recipe together, albeit with varying levels of fine motor skills.
Best found some academic research supporting this approach, including a small but often-cited 2016 study published in Pediatrics, the journal of the American Academy of Pediatrics (AAP), showing that babies fed via BLW had no additional choking risk. What she didn't find was research-backed information on how to implement it. How big should the pieces be? Did everything have to be steamed? What about allergens? Why had she never heard of any of this before?
In March 2019, Best created a dedicated Instagram account called @mamasbeet to share what she was learning with other parents. She posted diagrams of what size and texture of a specific food should be served to babies in three different age groups, content that was and is so immediately, abundantly useful that it's hard to believe people were ever expected to feed small children without it. She started receiving grateful DMs from other parents, then interest from like-minded clinicians. Her first two employees, Rappaport and Kim Grenawitzke, a pediatric occupational therapist, signed on. The fledgling team approached their work like a campaign, in the parlance of the nonprofit and political arenas Best came from, and all agreed that the campaign needed a better name, so they brainstormed and took a vote. ("Pretty sure my vote was for Tiny Turnip!" says Best, a farmers market regular whose personal Instagram posts pre-Charlie were mostly of attractive carrots.) And @SolidStarts was born.
A digital cookbook includes recipes that work for babies and their parents: lamb kofta with cucumber dill yogurt, sardines with lemony pasta and breadcrumbs, Sichuan-peppered "tingly" tofu with coconut rice and bok choy.
More than 1,400 posts and 1.6 million followers later, the Instagram account serves up those essential diagrams ("How to Introduce to Babies"), mini-guides to common issues like how to keep your baby from throwing food, and videos of real live babies gumming everything from black beans to ground ostrich meat. The Solid Starts website offers free guides to how to start solids generally and baby-led weaning specifically, and sells an assortment of in-depth guides and video courses. A digital cookbook ($16.99) includes recipes that work for babies and their parents: lamb kofta with cucumber dill yogurt, sardines with lemony pasta and breadcrumbs, Sichuan-peppered "tingly" tofu with coconut rice and bok choy. The free Solid Starts app gives anyone and everyone access to the First Foods database, which Best intends to build out until it is exhaustive. "I want it to house every food in the world," she says.
Solid Starts publishes free guides to preparing whole foods for babies at each stage of development.
All of this is packaged in a very familiar aspirational lifestyle aesthetic, with a gravitas that is perhaps less familiar. White space is abundant, and the minimalist navy logo could just as easily work for a food shop in the Hamptons. Even the high chairs and dishes the babies use in the videos read "coastal, mid-30s professional with a combined family income over $200K." But Solid Starts offers complimentary guides to families who cannot afford them and leads a working group "to create a more equitable, diverse, and inclusive baby food and feeding sector." Science is mentioned at every turn, often to debunk myths about feeding that Solid Starts attributes to baby food companies. The women who deliver information and perform demonstrations in the video courses seem kind, serious, and skilled. There are other big baby-led weaning accounts on Instagram, such as dietitian Katie Ferraro's @babyledweanteam, which has a popular BLW podcast, and @RebeccaWilsonFood, created by a British mom and BLW cookbook author, but none that so conspicuously suggest that everyone involved has done the homework.
In contrast with other Instagram parenting companies, Solid Starts has never accepted sponsorships or even made a little affiliate cash off all those minimalist silicone placemats. It also hasn't accepted venture capital, even though it is arguably a dream investment, thanks to rapid organic growth, huge potential scale (@SolidStartsEspanol launched last July), and a user base consisting of parents of small children, who one survey showed were responsible for $1.3 trillion in consumer spending in 2019. "Both [the] audience and the content library are massively valuable," Best's friend and informal advisor, Ben Leventhal, the serial entrepreneur behind Eater and Resy, says of Solid Starts. "You could see acquisition interest come from all kinds of places, such as large scale food manufacturers, who could use it as value-add content or build a new food line alongside the content."
Best says she's only begun to think about the company in these terms. Currently proceeds from the guides, video courses, and app cover the salaries of Solid Starts' 10 full-time employees, including Best. Recently, Best posted a call for investors, and she is contemplating using investment money to build a "pro" version of the app. (She raised the $75,000 dollars she needed to develop the original app on the crowdsourcing platform iFundWomen.) "I have to figure out a way to protect the integrity of the educational mother brand so that it's not influenced by profit," she says. In her vision, "Solid Starts is respected, dare I say, as much as the American Academy of Pediatrics or the Mayo Clinic."
Talking to Best and reading recent @SolidStarts posts, jam-packed with quotes from smart, warm experts, one has the feeling that all of the momfluencing has given way to actual help.
The case for baby-led weaning, according to Solid Starts, is twofold: it may reduce the risk of picky eating, and, echoing the same "gentle" or "respectful" parenting message behind other Instagram parenting gurus who have emerged in the last two years — Dr. Becky (@drbeckyatgoodinside), @curiousparenting, @feedinglittles, @biglittlefeelings — it allows the child to decide what feels right to them.
In her research, Best learned that there is no evidence that spoon-feeding babies purees is the healthiest way to introduce solid food, as most pediatricians still recommend. This is not news to the American Academy of Pediatrics, which does not officially recommend any particular method. "I'll be honest with you," says Dr. Mark A. Corkins, M.D., a pediatric gastroenterologist at the University of Tennessee and chair of the AAP's nutrition committee, "there's not a whole lot of data on how to start solids in kids and what solids to start." Corkins considers the current craze to be a reflection of the anxiety that has come from new parents living away from extended family, whose methods they would have adopted uncritically. "They are looking for help, and then they get on the internet, where there's all these people trying to give advice, and there's some things that sound like great ideas, but we don't know if they are good in practice." Corkins says the biggest risk of BLW is an imbalanced diet. "If it's too baby-led, the diet may end up being skewed," he says. "Parents need to have a little bit of control."
"If you exclusively feed purees, you're denying the baby the opportunity to practice chewing when they are most protected," Best says.
American parents' dependence on pureed baby food also stems from almost a century of marketing by baby food manufacturers, convincing parents of the safety and convenience of store-bought purees. But spoon-fed purees are mostly a response to the fear of choking, which pediatricians consistently warn parents about, in good faith. According to a 1984 study still cited in the AAP's policy statement on choking, which was last updated in 2010, one child under 5 dies approximately every five days in the U.S. from choking on food. Best's team looked at emergency room data compiled by Stanford University and found that the majority of choking cases in young children occur in toddlers, not infants. "The fear is really out of proportion with the statistical likelihood," Best says. "How many of those kids were mobile? How many of them are walking around or laughing or talking while eating?" Solid Starts asserts that self-feeding finger food from 6 months on actually reduces the risk of choking because the baby is not yet mobile and, according to motor development research, their gag reflex is most intense then, before gradually declining between 6 and 12 months. "If you exclusively feed purees during this time, you're denying the baby the opportunity to practice chewing when they are most protected," Best says.
Because this method amounts to advocating for feeding in a way that people have been taught could kill their babies, Best realized data would only go so far. "You're not going to be confident until you see a baby safely do it," she says. So she recruited some babies, or "junior recipe testers," as Solid Starts calls them. The testers, who are all compensated for their service, hail from around the world — India, Kenya, Singapore — as well as the U.S. Occasionally the foods they tackle are so obviously not what Americans consider baby food, the videos seem like stunts, like one of Declan, 8.5 months, gnawing on a chicken drumstick. The junior recipe testers have had their way with lotus root, elderberry, Sichuan peppercorn, and rambutan; ramps and teff, durian and chapulines (grasshoppers). "Sometimes going to the extreme and showing the crawfish and showing the spare rib and showing, eventually, sea urchin, really widens that notion of what baby can eat," Best says.
It's hard to remember, but there was a time when a parent could scroll Instagram without encountering parenting advice. During late-night feedings or while hiding in the bathroom, one could peruse the vacation photos of child-free people and never run into a list of phrases to say to a belligerent 4-year-old when what you want to say is "chew your food, God damn it."
Best, who is a huge Dr. Becky fan, doesn't apologize for her part in the explosion of parenting advice on Instagram. "As much as we, including myself, complain about parenting advice infiltrating every aspect of our life, in the pandemic [Instagram] was my virtual village," she says. "We held each other through that time, and I was disseminating free information on how to do this." It was information that, based on the overwhelming response, parents weren't finding elsewhere.
"We're no longer taking what our pediatrician says at face value," one BLW mom says. "We actually want to understand, 'What is the evidence behind it?'
Pandemic aside, Solid Starts meets parents at an anxious crossroads, when it's time to introduce their child to the outside world, in part by letting them put the outside world inside their tiny body. For the parent, a baby starting solids can feel like a necessary but frightening loss of control. When the FDA can't manage to keep infant formula safe and the pediatrician's advice seems to be arbitrary, it's little wonder parents navigating that transition are willing to embrace a new paradigm, even if it means roasting their own squash wedges. "I see in this generation of moms a demand for evidence and a total, beautiful disregard for how things used to be," Best says. My friend Laura, a media executive and self-declared Solid Starts disciple, testifies to the calm and joy Solid Starts' guidance has brought to feeding her 1-year-old daughter. "I'm obviously so anxious about choking, and their database shows you exactly how to cut every piece of food. It made me so confident. And I don't make [her] special food anymore. She eats everything we eat."
Evidence-based though they may be, these parents' conclusions sometimes run afoul of their pediatrician's recommendations. A first-time mom and Solid Starts devotee in Manhattan, who had her daughter five months ago, explains, "We're no longer taking what our pediatrician says at face value. We actually want to understand, 'What is the evidence behind it?'" then adds, "I am now on my third pediatrician in five months. I fired my second pediatrician after she told me that I should start my daughter on rice cereal at 4 months."
Baby-led weaning is not for everyone, of course. Some never get comfortable watching their baby exercise their gag reflex. Laura Miranda-Browne, an entrepreneur and mom of three, says, "With the twins, I was just terrified that they would simultaneously choke on something and I wouldn't be able to save them both." Then there are the thrown spoons, the regurgitated vegetables, and the yogurt-crusted hair. "You want to dip your baby in the bath after every meal," one startup CEO and BLW fan told me. Sometimes, Solid Starts seems to overestimate how much time and mental energy people want to devote to baby food. Even my friend Laura, the Solid Starts super fan, says, "Their paid recipe thing [is] deeply insane… Like who is making things just for their babies with all of these ingredients?" A program of home-prepared whole foods cut into developmentally appropriate shapes can feel like another Instagram-tailored exercise that is more expression of anxiety than antidote.
BLW "feeds into millennial parents' striving for perfection," says Ashley Brichter, a Brooklyn-based mom of two and founder of Birthsmarter, an educational platform for new and expectant parents, although she regularly supports parents starting BLW. Some parents yearn for a sophisticated little dining partner who will share their love of globally influenced farm-to-table cuisine. Others are terrified of sugar, obsessed with vegetables, and desperate to protect their kids from the stigma heaped unrelentingly on fat people. With all its evidence for the advantages of BLW, Solid Starts risks tapping into the anxiety that runs beneath so much parenting and nutrition advice, that if you do things a certain way, you'll set yourself up for success. The implication is that if things are not OK, the failure is yours.
But this is where the second promise of baby-led weaning comes in. If they can summon the nerve to let their baby feed themselves, parents might take their own food hangups out of the equation. They may find that their toddler would prefer dinosaur-shaped chicken nuggets to almond-crusted salmon, after all. But at least they will have prepared themselves for the letting go that will be required of them at every stage of their child's life.
Best, who restricted her own eating for years to make her way in professional ballet, sees her insistence on spoon-feeding Charlie as the last vestige of that need for control. By the time she had kids, she says, "I had healed my own relationship with food, but at the time I was not equipped to raise a child who could have a happy relationship with food. And it turns out not a lot of us are." But any harm done is reversible, Best says, especially if someone offers you the education and resources to turn it around. One of the reader DMs Best included in the @SolidStarts About Us highlights reel reads, "Not only have you guided me on how to introduce food to my baby and raise a happy eater, you are helping me heal from all my food body [sic] issues."
"We all have baggage. Think about what your mom brought to the table. It doesn't mean you're bad or guilty," Best says, gently. "It's OK."
Photographer: Graydon + Herriott
Stylist: EJ Briones
Art Director: Shanelle Infante
Set Stylist: Amy Elise Wilson
Food Stylist: Sue Li
Video: Marshall Stief