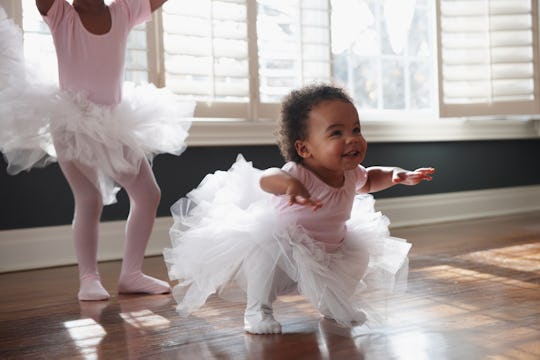 LWA/Stone/Getty Images
25 Free Ballerina Coloring Pages You Can Print From Home
Let their imaginations dance.
When it comes to pretend, playing ballerina is high on many children's lists of imaginary activities. Something about tutus and toe shoes makes for great fantasy fodder. But when not in ballet class, or if the circumstances dictate, a non-twirl setting (think: restaurants, important family gatherings, long drives), you can give your tiny dancer one of these free ballerina coloring pages instead.
The theme is the same for all of these, but the illustrations vary. Some showcase ballet dancers in simple cartoons, perfect for those just learning to color who have yet to master fine motor skills. Others are more detailed pages where they can really imagine the dance, like the Swan Lake illustration.
And, of course, every coloring page is up to its artist's interpretation. If your mini Misty Copeland or itty bitty Baryshnikov wants to make all the ballet slippers rainbow colored with kittens drawn on them, by all means, they may. That's the joy of artistic expression; whether it's in the dance studio or on a piece of paper, your little creative wunderkind should feel empowered to really explore the space and color outside the lines. (Just not on the walls, please. That's not too much to ask.)
All you need now is to fire up the old printer and dust off a box of crayons and your ballet dancer in training can get coloring.