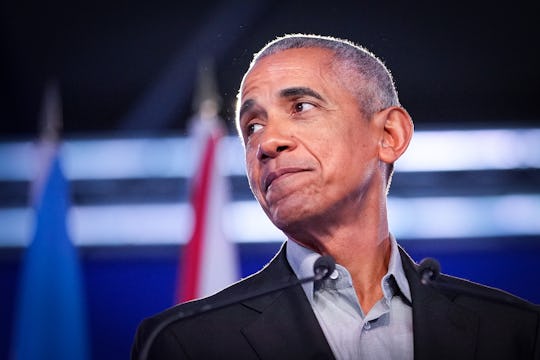 Christopher Furlong/Getty Images News/Getty Images
Obama Hopped On TikTok To Join Librarians In Their Fight Against Book Bans
"It's no coincidence that these 'banned books' are often written by or feature people of colour, Indigenous people, and members of the LGBTQ+ community."
President Barack Obama is fighting back against the rise in "profoundly misguided" book bans that have been happening across the country. Not only did Obama write an open letter in support of American libraries, he even made a cameo in a TikTok to really get his message across.
On Monday, the former president and father of two showed his support for Unite Against Book Bans, a campaign led by the American Library Association (ALA). There has been a disturbing movement in several states towards censoring books that address topics of racism and race-related issues as well as gender and sexuality. In the 2021-2022 school year, more than 1,600 books were banned from school libraries in 32 states across the country, according to the nonprofit organization PEN America. Now President Obama has joined the fight to protect access to these books in a letter addressed to the "hardworking librarians of America."
"Writers like Mark Twain and Toni Morrison, Walt Whitman and James Baldwin taught me something essential about our country's character. Reading about people whose lives were very different from mine showed me how to step into someone else's shoes. And the simple act of writing helped me develop my own identity — all of which would prove vital as a citizen, as a community organizer, and as president," Obama wrote.
"Today, some of the books that shaped my life — and the lives of so many others — are being challenged by people who disagree with certain ideas or perspectives," he continued. "It's no coincidence that these 'banned books' are often written by or feature people of color, Indigenous people, and members of the LGBTQ+ community."
In a further effort to show his unwavering support for librarians, Obama appeared in a TikTok posted by Kankakee Public Library in Illinois. The short video features staff members reading from books that have either been banned or there has been a concerted effort to see them banned. Obama makes his surprise cameo at the end of the video, sitting in a chair reading a book drinking out of a mug with the library's logo on it in a show of solidarity with librarians. "Reading 📖 can transport you to a different world 🌎😮‍💨 shout out to the ✨Obama Foundation✨ for the collab!," the library captioned the video.
"Together, you help people become informed and active citizens, capable of making this country what they want it to be," Obama wrote in his letter of appreciation for the work librarians do. "And you do it all in a harsh political climate where, all too often, you're attacked by people who either cannot or will not understand the vital — and uniquely American — role you play in the life of our nation."