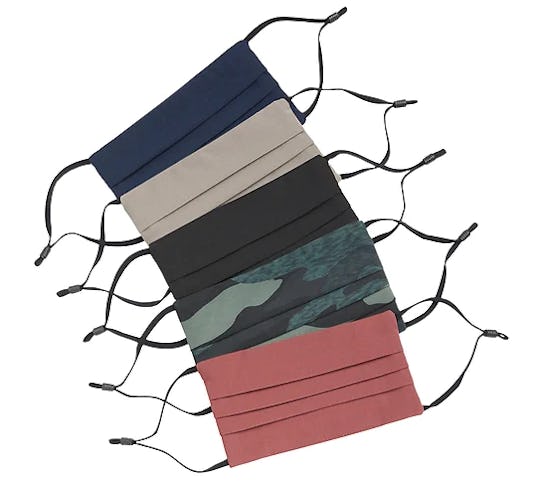 Athleta
17 Face Masks For Kids That Are Cute, Comfortable, & Get The Job Done
It's hard to believe that masks have been a part of life for over a year now. Chances are your kid has either outgrown or lost (or some combination of both) many of the face coverings they wore at the onset of the pandemic, so if you're looking for some new face masks for kids, you'll find them on this list.
The CDC continues to recommend that children ages 2 and up wear face masks in public (in addition to avoiding close contact and washing hands). The good news is that after Pfizer found 100% efficacy and a strong antibody response in a phase 3 trial of kids ages 12-15, the Food and Drug Administration (FDA) has given emergency use authorization for Pfizer's COVID-19 vaccine in kids 12 and up. But even with vaccinations, it's still likely that we'll be wearing masks for the long-haul as Dr. Fauci recently told CNN it's possible that masks will be recommended through 2022 (though mercifully he also added that there will be a "a significant degree of normality" by then).
A mask should have at least two layers of fabric or paper, which you'll know it does if you can pull the two sides apart. If you're not sure if your kids' mask is effective enough, you can try the candle test as suggested by NPR (assuming they're old enough). All you need to do is light a candle and have your child wear their mask and try to blow it out; they should not be able to. Read on for the best comfy but protective masks for kids at a range of price points.
We only include products that have been independently selected by Romper's editorial team. However, we may receive a portion of sales if you purchase a product through a link in this article.
This article was originally published on