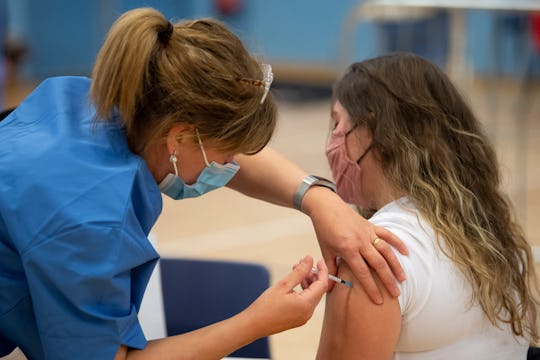 Matthew Horwood/Getty Images News/Getty Images
Here's What You Need To Know About Getting Your Babysitter The COVID-19 Vaccine
Whether your caretaker is eligible depends on a few factors.
As states gradually opened up COVID-19 vaccine eligibility to the greater population, caretakers, whether considered high risk or not, were at the forefront of people's minds. For families that operate only with the help of nannies, babysitters, and caretakers for the elderly — essential workers as far as they're concerned — it makes sense that these individuals would have been one of the first groups to receive the shot. But in reality, vaccine distribution protocols were found to vary widely from state to state. So how can nannies, babysitters, and caretakers get the COVID vaccine?
There's good news: As of Monday, April 19, 2021 all U.S. adults age 18 years and older are eligible to receive the COVID-19 vaccine.
Who is eligible to receive the vaccine?
Prior to April 18, 2021 groups were eligible in various phases. Now anyone who is 18+ is eligible across all of the United States and U.S. territories. The Biden administration moved up its deadline for all Americans to become eligible to receive a coronavirus vaccine from May 1 to April 19, as reported by The Washington Post.
That said, some states are still prioritizing certain groups. To determine exactly how your state is handling the open enrollment, check your state's vaccination webpage.
Babysitters, Nannies, and Caretakers under the age of 18
Babysitters, nannies ,and caretakers who are 16 and 17 aren't entirely out of luck when it comes to securing a vaccine. The majority of states have made their age limit 16 and up. For instance, Alaska begane allowing all 16+ individuals vaccine eligibility on April 5. Arizona did the same on March 24. There are currently 43 states extending vaccination to those who are 16+, per U.S. news, and you can find your state's status here.
Again the specific regulations for accepting 16+ individuals vary from state to state. For instance, Florida has announced that 16- and 17-year-olds are eligible at some locations, so it's worth reviewing your state and even city and county vaccine eligibility reports to get the latest information.
What about babysitters, nannies, and caretakers under the age of 16?
If your babysitter is younger than 16, there's hope that they too will soon be allowed to get vaccinated. Pfizer and Moderna are currently testing their doses on children ages 12 and older, and estimates suggest that those results could be released by this summer.
Children's vaccine studies have also begun for kids younger than 12. Moderna is currently accepting vaccine applicants for ages 6 months to 11 years old, which is one way to get a child vaccinated early. However, until those and Pfizer vaccine test results are released, reviewed, and approved by the U.S. Food and Drug Administration, the majority of children will have to wait for a vaccine.
What do you need to bring to your vaccine appointment?
None of the health departments Romper contacted indicated any specific documentation required to receive the vaccine other than a government ID. For those who do not have a driver's license, states are accepting Passports or birth certificates. In Indiana, for example, "a letter from your doctor, medical record, discharge paperwork, or other document with this information" will also be accepted, according to a state website.
In other states, such as Virginia, you cannot be turned away from receiving the COVID-19 vaccine for lack of documentation, reports WUSA9.
Of course, if you are unsure, you should ask in advance.
How long will the appointment take?
In at least the state of Virginia, vaccine appointments are being made in 10 minute increments. You show up, fill out some forms, get the vaccine, sit in an observation area for 15-30 minutes to see if you have any immediate reaction to the vaccine, and are on your way. Staff give patients a card with their vaccine information and instructions on when to return for dose two if receiving the Moderna or Pfizer shot. The Johnson & Johnson shot is administered just once, but is currently on pause as federal health officials investigate and review reported cases of blood clots found in U.S. recipients of the vaccine, reports The Washington Post.
However, Dr. Anthony Fauci, the country's top infectious disease expert, has been quoted as saying he believed the review would be concluded by late April, and that he suspected the Johnson & Johnson vaccine would go back into use.
How long will I wait before I can get my second shot?
This is another question that requires consulting your state information. In some places, for instance, Washington state, the Moderna vaccine is being given out within 4 weeks of each shot.
According to the Washington Post, the Center for Disease Control and Prevention reports that the recommended interval between doses is 4 weeks, however, if a patient misses their appointment, they can wait up to six weeks.
Your slated wait time will depend upon the clinic you visit.
Where can I find more information to answer my vaccine questions?
Of the 25 states Romper reached out to, each Health Department had a website landing page specifically with vaccine-related information. So our suggestion is to Google: "state name COVID vaccine information" to find more answers to your questions.
For more information, WebMD has put together a comprehensive list of every state's COVID vaccine information pages, which you can find here.
This story will be updated as we gather more information.
This article was originally published on