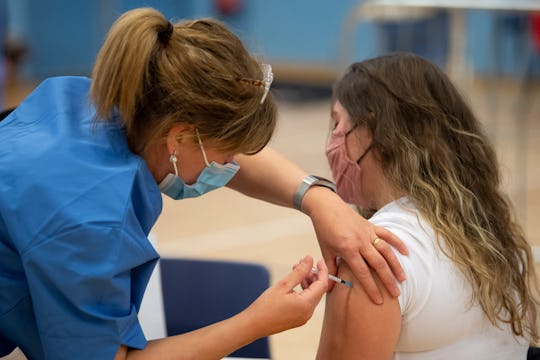 Matthew Horwood/Getty Images News/Getty Images
Babysitters, Nannies, And Caregivers And The Covid-19 Vaccines: Everything You Need To Know
Experts break down who is eligible (and should) get the COVID vaccine and how they should navigate mask-wearing around children.
As states gradually opened up COVID-19 vaccine eligibility to the greater population, caretakers were at the forefront of people's minds. For families that operate only with the help of nannies, babysitters, and caretakers for the elderly — essential workers as far as they're concerned — it makes sense that these individuals would have been one of the first groups to receive the shot. But in reality, vaccine distribution protocols varied widely from state to state.
There's good news: As of Monday, May 10, 2021 all U.S. children and adults ages 12 years and older have been eligible to receive the COVID-19 vaccine.
Even better? More than 50% of Americans have received at least one COVID shot as of June 1, according to CNBC. Forty-one percent of Americans are fully vaccinated, the Centers for Disease Control and Prevent reports.
Who is eligible to receive the vaccine?
Prior to April 18, 2021 groups were eligible in various phases. Now anyone who is 12+ is eligible across all of the United States and U.S. territories. On Monday, May 10th, the Food and Drug Administration (FDA) approved the emergency use authorization for the Pfizer COVID-19 vaccine for children ages 12 to 15, as reported by MSN. In a press conference, FDA acting commissioner Janet Woodcock said that the vaccine would be distributed to adolescents in the "same regimen and dose as adults."
"This vaccine is just the exact same dose and regimen as what has been given out already, so all those places, those pharmacies, those vaccine centers, all those sites can simply extend down to the younger age group," Woodcock said.
Children's vaccine studies have also begun for kids younger than 12. Moderna is currently accepting vaccine applicants for ages 6 months to 11 years old, which is one way to get a child vaccinated early. However, until those and Pfizer vaccine test results are released, reviewed, and approved by the U.S. Food and Drug Administration, the majority of children will have to wait for a vaccine.
When can tweens and teens start babysitting again?
As with adults, kids will be considered "fully vaccinated" two weeks after their second dose — but that doesn't mean they can go right back to babysitting for the whole neighborhood. No vaccine is 100% foolproof, and the virus is still a risk, as Dr. Daniel Cohen, pediatrician at Westmed Medical Group in Westchester New York, tells Romper.
"The more families they associate with the more likely they are to pick up the virus and spread it to others," Dr. Cohen says. You can never fully rely on the status of another household, he adds, even if they claim every member has been fully vaccinated. "The odds are better, but there are still holes," he says. Before making any decisions, Dr. Cohen advises parents to "watch the percentage of cases in your community. When it's near zero, then you're okay."
What do you need to bring to your vaccine appointment?
None of the health departments Romper contacted indicated any specific documentation required to receive the vaccine other than a government ID. For those who do not have a driver's license, states are accepting Passports or birth certificates. In Indiana, for example, "a letter from your doctor, medical record, discharge paperwork, or other document with this information" will also be accepted, according to a state website.
In other states, such as Virginia, you cannot be turned away from receiving the COVID-19 vaccine for lack of documentation, reports WUSA9.
Of course, if you are unsure, you should check your state's website or call a pharmacy in advance.
How long will the appointment take?
In most states, vaccine appointments are being made in 10 minute increments. You show up, fill out some forms, get the vaccine, sit in an observation area for 15-30 minutes to see if you have any immediate reaction to the vaccine, and are on your way. Staff give patients a card with their vaccine information and instructions on when to return for dose two if receiving the Moderna or Pfizer shot. (The Johnson & Johnson shot is administered in just one shot. While it was temporarily put on pause as federal health officials investigated and reviewed cases of blood clots found in U.S. recipients, reported The Washington Post, as of April 23, the CDC and FDA recommended that use of the Johnson & Johnson COVID-19 vaccine resume in the United States. (Women younger than 50 years old should be made aware of a rare risk of blood clots with low platelets following vaccination and the availability of other COVID-19 vaccines, according to the CDC.)
How long will I wait before I can get my second shot?
This is another question that requires consulting your state information. In some places, for instance, Washington state, the Moderna vaccine is being given out within 4 weeks of each shot.
According to the Washington Post, the Center for Disease Control and Prevention reports that the recommended interval between doses is 4 weeks, however, if a patient misses their appointment, they can wait up to six weeks.
Your slated wait time will depend upon the clinic you visit.
Can unvaccinated babysitters/nannies watch your children masked?
The lifting of COVID restrictions has meant a small return to normal; however, children are still at risk of contracting COVID, even if they experience few to no symptoms. Since the pandemic began, children have represented 14.1% of total cumulated cases, according to the American Academy of Pediatrics. That means parents need to consider pediatric guidelines as they pertain to children and COVID.
To mitigate spread, unvaccinated babysitters can interact with a family without wearing masks if they work "full time with only your family and are diligent about practicing social distancing, wearing masks and limiting exposure," says the University of Chicago Medical Center. If they work with multiple families, the University says then a mask should be mandatory.
Should children wear masks?
While COVID has been shown to be less severe in children, without vaccinations available for ages 12 and younger, the CDC still urges caution. According to CDC guidance, children 2 and older "should wear masks in public settings and when around people who don't live in their household."
Where can I find more information to answer my vaccine questions?
Of the 25 states Romper reached out to, each Health Department had a website landing page specifically with vaccine-related information. So our suggestion is to Google: "state name COVID vaccine information" to find more answers to your questions.
For more information, WebMD has put together a comprehensive list of every state's COVID vaccine information pages, which you can find here.
This story will be updated as we gather more information.
This article was originally published on Jan. 26, 2021
Experts:
Dr. Daniel Cohen, pediatrician at Westmed Medical Group in Westchester New York
If you think you're showing symptoms of coronavirus, which include fever, shortness of breath, and cough, call your doctor before going to get tested. If you're anxious about the virus's spread in your community, visit the CDC for up-to-date information and resources, or seek out mental health support. You can find all of Romper's parents + coronavirus coverage here.
This article was originally published on