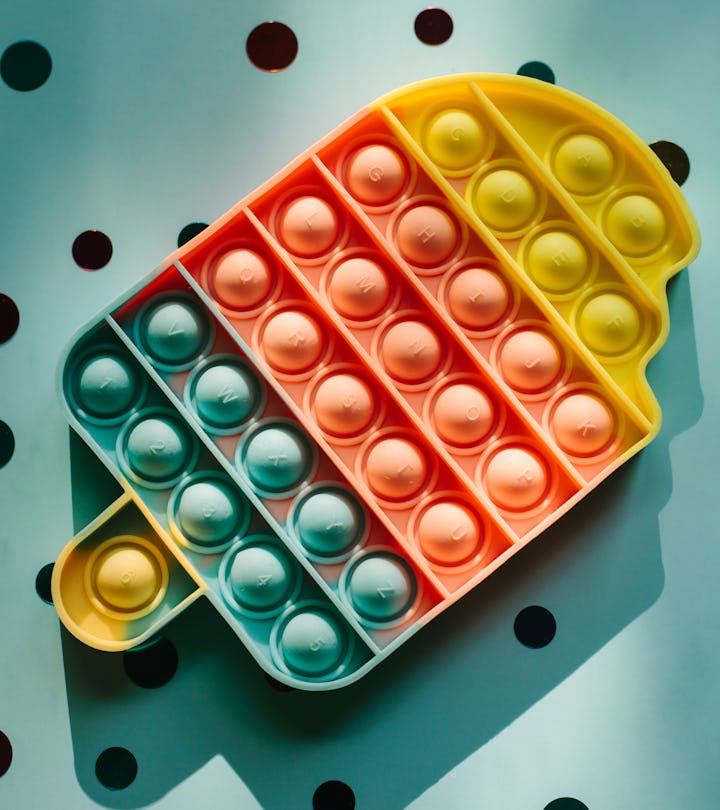 Anna Blazhuk/Moment/Getty Images
The 11 Best Fidget Toys For Every Age
There are gadgets and gizmos a-plenty.
We may receive a portion of sales if you purchase a product through a link in this article.
Spinners, cubes, putty, and more — the world of fidget toys is always expanding, and if you're looking for a tool to help your kid (or yourself) focus, it's hard to know where to start. Some parents even use fidget toys to help with ADHD and similar conditions, while for some kids, having a fidget toy just gives them something fun to do at school, riding in the car, or wherever. Finding the best fidget toys for kids and adults isn't about one specific brand or product. It just requires a little forethought about where and how your fidget toy will be used, and what characteristics will make you want to reach for it again and again.
What to consider when buying a fidget toy
How do you pick a fidget toy that'll work best for you or your kid? You'll want to make sure it's safe, easy to use when needed, and most importantly, has whatever qualities you like best in a fidget toy. Some things to keep in mind while you browse:
The age of the person using it. If it's for a toddler, does it have any small parts that could be choking hazards?
Where the fidget toy will be used. If it's for use at work or school, can it be fidgeted with quietly, and with only one hand while the other writes or clicks?
Size. The best fidget toys to travel with are compact and easy to secure to your bag or slide into your pocket.
Durability. You want to choose a toy that is made to last so it doesn't break mid-fidget.
What feels best. Some kids like a fidget toy that's soft or squishy, while others want something that makes noise. Choose something that will really help alleviate that pent up energy and stress.
Fidget toys for kids who are neurodivergent
If you're shopping for a fidget toy that will help your child fulfill their sensory needs, there are some additional things to consider. Children and adults with autism, sensory processing disorder, ADHD, and other conditions sometimes do something called "stimming." The Warren Center for Children with Developmental Disabilities says stimming, or self-stimulating behavior, can help people who are neurodivergent reduce their anxiety and cope with big emotions. So, think about what kinds of stimulation your kid seeks out when they're under stress — do they like repetitive sounds, movements, or something to squish?
With these guidelines in mind, here are some of the best fidget toys for every age and environment.
So, which fidget toy fits best in your child's routine? Or, which one will help you manage stress at work? It may take a few tries to find your perfect fidget toy, but when you do, it'll be worth the search.