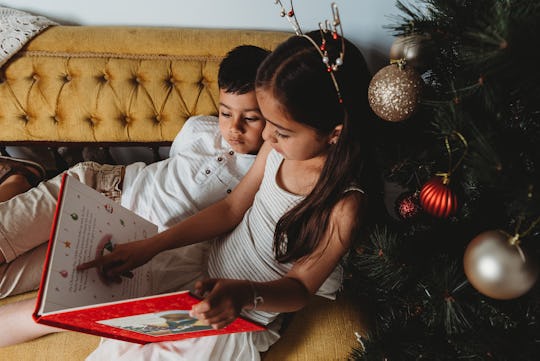 Cavan Images/Cavan/Getty Images
The Magic Of Santa Lives In These 15 Picture Books
And you're going to want all of them for your kid's Christmas reading.
I am a huge reader, so reading with my children is obviously one of my favorite things to do. This time of year, our books tend to be mostly related to Christmas and Hanukkah, and Santa is a particular favorite topic. I mean, he's so mysterious, right? There are children's picture books about Santa covering all topics of his life and history, and because "no one really knows for sure," kids have a fun time trying to piece together what they think he's really like.
There's literally a Santa story for every child and every family, and they range from the silliest picture books, to more serious, social justice stories that get to the heart of what the holiday is about. The best stories amplify all that is good about the idea of Santa, and why his myth has such a power to create positive energy and how he became a centerpiece in all of our lives.
The books on this list are some of the absolute best out there, and represent a huge range of subjects, age, and reading levels. Some of these are also available in audiobook format or on eBook if you're pressed for space. No matter which you choose, you and your kids are sure to be entertained.