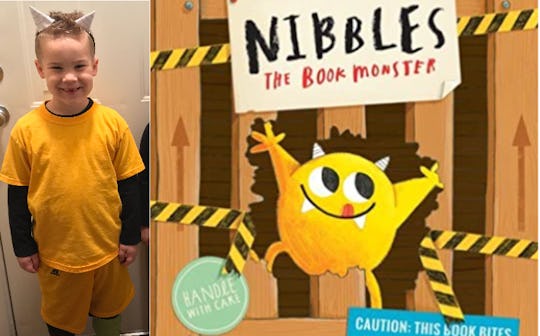 Courtesy of Ashley Jones
13 Easy Book Character Costume Ideas For Kids
You can likely use things already in your kid's closet for these looks.
Themed spirit days at school can be both a blessing and a curse. It's so much fun for the kids to dress up, but can be a lot of work for the adults who have to put a whole costume together, especially with short notice. (Because your second grader left the note in the bottom of his backpack for weeks, naturally.) For your child's next book character day, these costume ideas are incredibly easy to achieve.
For my oldest son's first book character day at school, I knew that I needed him to pick a character whose look was super simple to recreate. The less I had to buy, the better. I'm also not the most crafty person in the world, so I also didn't want to have to make much either. As it turns out, a couple of pointy paper cups glued to an old headband paired with a yellow t-shirt and a pair of yellow gym shorts transformed him into an adorable version of the main character from one of his favorite tales, Nibbles the Book Monster.
Classic characters from your own childhood can also be a great source of inspiration. Most of their looks are simple enough to recreate with things you probably already have at home like overalls for Corduroy or a floppy hat and blue dress for Madeline. Take a look at this list with your kids the next time you're in need of book character costume inspiration for a school spirit day, Halloween, or any other costume-wearing occasion.