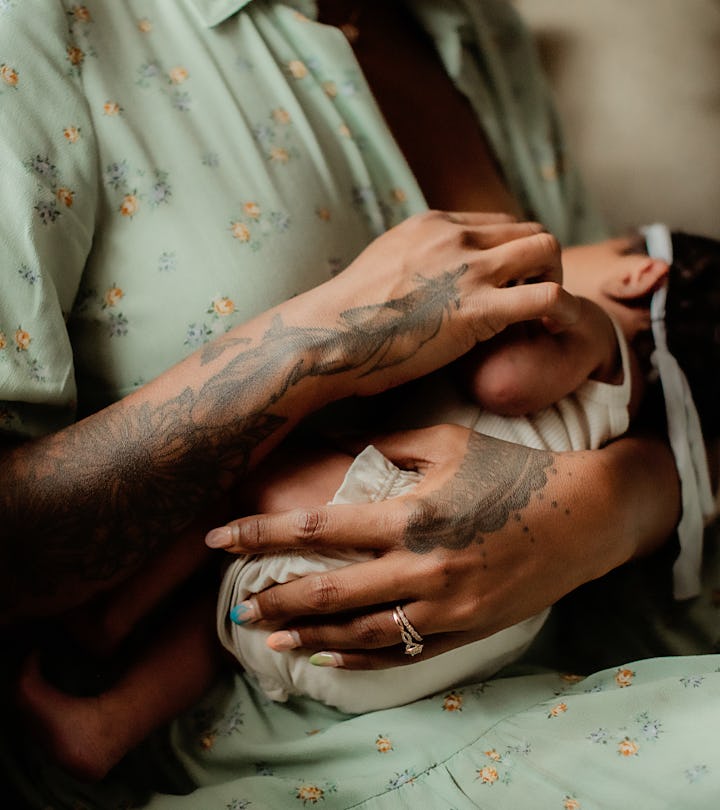 Cavan Images/Cavan/Getty Images
15 Breastfeeding Tattoo Ideas That Are So Meaningful
It's a permanent reminder of your bond.
Getting a tattoo is such a personal experience. Maybe you start with your own idea sketched out, or perhaps you just talk through what you want with an artist who draws it for you, but at the heart of it all is the meaning behind your ink. When you want to capture a moment or period of time with a design that's permanently placed on your skin, there's usually a lot of thought that goes into it. Really, the process is a whole journey with a little (or a lot of) pain, but it ends with something you can remember forever — much like breastfeeding. If you're ready to memorialize your nursing journey in ink, these breastfeeding tattoo ideas can help inspire your own personal piece of artwork.
Is it safe to get a tattoo while breastfeeding?
If you want to get a breastfeeding tattoo, it's safest to do so after you're no longer actively breastfeeding. Getting a tattoo while breastfeeding isn't the best idea because with any tattoo — no matter how safe and clean the needle is — there's a risk of infection. In fact, as Romper previously reported, many tattoo artists won't allow anyone who is nursing or pregnant to book a session for this reason. So, it's best to wait until your baby has weaned to memorialize your journey in this way.
Just like there are so many different ways to be a parent, there are equally as many ways to capture this particular parenting milestone. Below are just a handful of breastfeeding tattoo ideas to get you started.
A permanent reminder of the bond you developed through feeding and nourishing your baby, a breastfeeding tattoo is a beautiful way to celebrate your nursing journey.