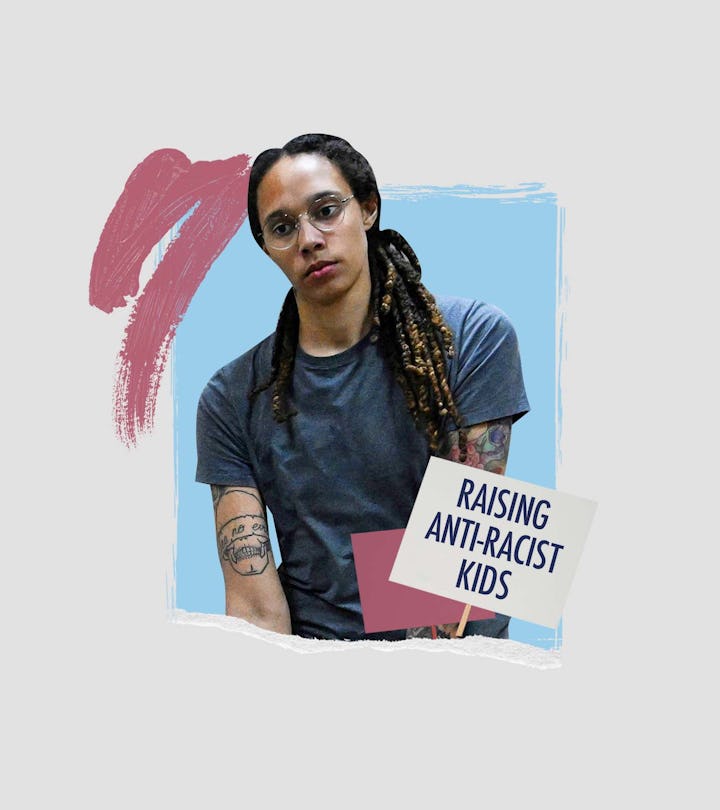 We Need To Talk To Our Kids About Brittney Griner — Here's How
"I want my son to know Brittney's name but, more importantly, I want him to be able to take a brave stand if he hears friends parroting untruths."
When a Black person's name becomes a hashtag, it's rarely for a good reason. Such is the case with Brittney Griner, the tall, bespeckled basketball player who has been wrongfully detained in Russia since Feb. 17, 2022, after being arrested and charged with carrying vape cartridges containing less than a gram of cannabis oil in her luggage. Last week, this Black queer woman was sentenced to nine years in a Russian prison.
Though the unconscionable racial and gender disparities were immediately crystal clear as soon as we heard of her arrest, I found myself struggling with how to explain to my 7-year-old the tragic and unjust realities of Brittney's situation. I want him to know Brittney's name but, more importantly, I want him to be able to take a brave stand if he hears friends parroting untruths about her that they themselves may be overhearing.
Black women are among the most marginalized in this country. Those practices are upheld by systems that depend on us suffering in silence, building "resiliency," and being separated from the support of our communities. I want to tell my son about Brittney to show him that what we're not going to do is forget about this young Black woman imprisoned far from home. With every tool at our disposal, we're going to fight to bring her back to her loved ones.
But what, really, are these tools, for everyday parents and families?
I talked to Selena Harper McLaurin, deputy director of Black Feminist Future, a political hub focused on galvanizing the political and social power of Black women, girls, and gender-expansive people toward liberation. We spoke about their #BringBrittneyHome campaign and how to bring our kids into this conversation and take action together.
#BringBrittneyHome was launched in March 2022 "to apply pressure to and demand that the U.S. government work diligently to bring her back home to her family, community and life here in the U.S." This campaign demands that "the U.S. government prioritize the swift and safe release and return of Brittney Griner back to the United States — facing no charges." They also demand "ongoing visible proof of Brittney Griner's safety and wellbeing as well as consistent communication and wellness checks while in custody," and that "Brittney Griner have access to the same benefits and protections as any other U.S. citizen, including but not limited to consistent U.S. consular access."
I want to tell my son about Brittney to show him that what we're not going to do is forget about this young Black woman imprisoned far from home.
I asked McLaurin why parents who center anti-racism in our homes should talk to our kids about Brittney Griner, and the key point here is the disparities in how Black bodies are surveilled and policed around the world.
"Black bodies are often subject to harsher treatment and sentences — and people shouldn't be held in cages," McLaurin says. "Russia has a history of discrimination and poor treatment of Black and queer people, putting Brittney at a greater risk of harm there."
Brittney would also not be in this current situation if she didn't need to leave the United States to earn an adequate income as a basketball player, a fate male basketball players of course don't have to consider. "If not for the gendered and racialized pay gap disproportionately impacting Black and queer women in professional sports, Brittney would not have had to seek employment outside of the U.S.," McLaurin says. (We also need to talk about the treatment of Black basketball players within the institution of professional sports, but that's a whole other article.)
So how exactly do we talk to our kids about Brittney Griner and what can we do together as a family? Here's a starter guide, with help from child and family therapist Sarah Harris, LMFT-S.
Brittney Griner Kid-Sized Conversation Guide
Conversation starter: Have you heard about a woman named Brittney Griner? Can I talk to you about her? Brittney is a very loved partner, friend, family member, and teammate. She plays basketball for a living and is one of the top female basketball players in the WNBA. Do you like to play/watch basketball? Can we do some research together to print and cut out some pictures of Brittney doing what brings her joy with people she loves?
Follow-up: Check in on if your kid has questions and explore the pictures together.
Do you know that, in this country, female basketball players don't make as much money as male basketball players? Many women on a whole aren't paid as much as men. And Black women, specifically, are not paid as much as others. Do you think that's fair? What do you think could be done to be more fair about this?
Leave room for your kid's creative ideas about fairness.
Because of this unfairness, Brittney has to go to other countries to play basketball to make a living. About six months ago, Brittney was trying to come home from Russia, where she was playing basketball. She didn't know that she was carrying a small item that isn't allowed in Russia. They used this as an excuse to put her in jail. Brittney said, "I made an honest mistake." How do you think we should handle mistakes?
Follow-up: Lean in to talking about mistakes.
Our family can do something about this. We can tell our government that they have to bring Brittney back home as soon as possible. We also need them to make sure that Brittney is OK and that she can talk to her family and friends. And we need them to protect Brittney. We have to keep talking about Brittney with our friends and our families. How do you think we can use these pictures of Brittney to send a message to the government and to keep talking about her?
Get the crayons/markers out and get creative together. (Some examples are kids writing letters to the government, creating a collage with the letter, etc.)
McLaurin stressed that we all need to "keep Brittney top of mind until she is safely returned home." It is devastating to imagine her anywhere else but home with those who love her. Black women deserve to be protected. We deserve to be prioritized. We deserve to be treated with the same care, dignity, and respect as everyone else. Parents and caregivers can help our kids understand her story and can use the tools we have at our disposal to bring her home, once and for all.
Do This One Thing:
Your family can sign this petition calling for the above demands of the U.S. government.
Raising Anti-Racist Kids is a column written by Tabitha St. Bernard-Jacobs focused on education and actionable steps for parents who are committed to raising anti-racist children and cultivating homes rooted in liberation for Black people. To reach Tabitha, email hello@romper.com or follow her on Instagram.
Recent columns:
I've Learned A Lot Raising Black Multiracial Children. Here's What I Want Fellow Parents To Know.