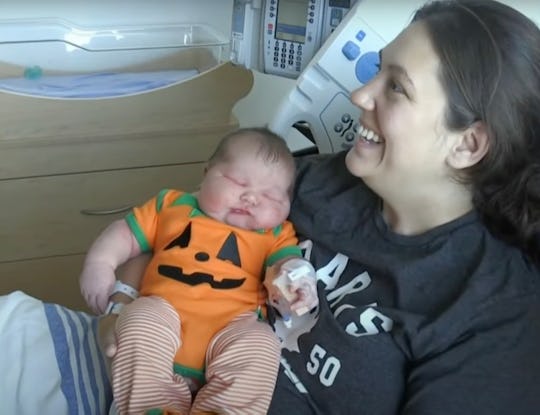 CTV News/YouTube
Canadian Mom Gave Birth To A Nearly 15-Pound Baby Boy & Broke Hospital Records
Baby Sonny was born via C-section, praise be.
Canadian mom Britteney Ayres had the surprise of a lifetime when she welcomed her fifth child recently. The sweet little boy was not so little. Indeed, he was approximately twice the size of an average baby. Sonny Ayres clocked in at a healthy 14 pounds, 8 ounces, and earned the title of biggest baby born in 13 years. It must be all that Canadian fresh air.
Ayres and her husband Chance, who are parents to 6-year-old Chance Jr., 5-year-old Everett, 3-year-old Lucky, and 1-year-old daughter Marigold, were at Cambridge Memorial Hospital in Cambridge, Ontario in late October, ready to welcome their fifth baby. Which was obviously an impressive feat on its own. Britteney's OB/GYN Dr. Asa Ahimbisibwe told Fox News that he was prepared for the mom of five to welcome a big baby, as Sonny's older sister Marigold was more than 13 pounds at birth.
"We knew that this baby would also be a big one, but we did not expect that he would be this big," Ahimbisibwe explained to the news outlet, adding that people were "making bets" about the possible size of Sonny.
When Sonny was put on the scales and weighed in at an impressive 14 pounds, 8 ounces, much bigger than the average newborn weight of around seven pounds, according to the CDC, his dad Chase Ayres said everyone cheered. "It was a mind-blowing experience," he told the outlet. "The way the doctors and nurses were cheering. It was like the [Toronto] Maple Leafs won the Stanley Cup. It was insane. Everybody was jumping and screaming. It was fun."
Sonny's doctor told the outlet that he was the biggest baby born at the hospital since they started to track records in 2010. And what a welcome to the world he received. And now I'm wondering if he gets his own percentile.
While Sonny is certainly a larger-than-average newborn, he is by no means even closest to the biggest baby ever born on record (not to take away from his achievements, of course). The largest birth ever recorded in the Guinness Book of World Records happened in 1879, when a baby was born at 22 pounds. Sadly, that baby died just 11 hours after its birth.
Sonny, thankfully, appears to be a healthy, happy little boy. Born via C-section, which we were all so happy to hear, his dad Chase called the family's newest addition "a ray of sunshine" in an interview with Good Morning America. And probably already wearing 3-6 month onesies.