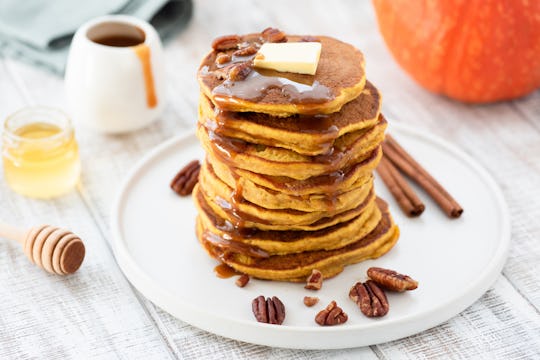 Arx0nt/Moment/Getty Images
12 Recipes To Make With All That Leftover Canned Pumpkin
Canned pumpkin — also known as pumpkin puree — is a hot commodity during the fall months, especially around Thanksgiving. It's a main ingredient in pumpkin pie, the Thanksgiving holiday's signature dessert. But there are a lot of other recipes you can use canned pumpkin for — not just for sweet treats like pastries and pies, but also savory foods like breakfast dishes, vegetarian-friendly dinners, and even dog treats.
Worth noting, canned pumpkin has some health and nutritional benefits. It's high in fiber, so it can lower cholesterol and keep you full longer. Plus, it contains important vitamins like Vitamin A, which strengthens the immune system (and so necessary as the days get colder and people spend more time indoors). It also tastes delicious with a lot of other flavors that you wouldn't necessarily expect it to pair well with. Who would have thought that pumpkin could taste good in a pasta dish?
So if you have a stockpile of canned pumpkin in your pantry and are looking for creative ways to use it, or you simply will find any excuse to indulge in anything and everything pumpkin-related, these recipes will help you use some canned pumpkin in all sorts of delicious meals.
A lot of these options are not only delicious, but healthy — so you have plenty of ideas here that will let you get some canned pumpkin into your daily life. It doesn't get yummier than that.