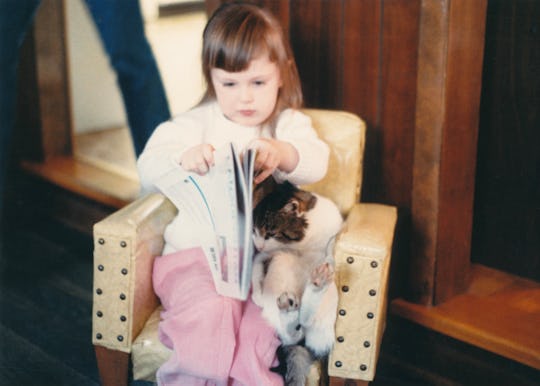 Jena Ardell/Moment/Getty Images
19 Children's Books About Cats To Read With Your Kitten-Loving Kid
Because The Cat in the Hat just isn't cutting it anymore.
Whether you have a pet cat at home, or your kiddo met one at a friend's house and hasn't stopped asking for one since, some children just become cat lovers at an early age. If you want to surprise your little one with a new children's book about cats, have no fear: there are plenty out there! They could be just the motivation your child needs to get into story time and start practicing their reading with you at home.
Think about your favorite books from when you were a kid. Maybe you were obsessed with Clifford the Big Red Dog books, or the series of If You Give a Mouse a Cookie, If You Give a Moose a Muffin, and more. No matter the title, chances are at least one of your favorites starred animals and some kind of funny antics or sweet friendship.
So, if your little one loves kitties, these children's books about cats could very easily wind up on their list of favorites when they look back on story time with you years from now. But of course, half the fun of story time is getting into character and using lots of fun voices, so be sure to practice your meow while you wait for these to arrive at your doorstep.
We only include products that have been independently selected by Romper's editorial team. However, we may receive a portion of sales if you purchase a product through a link in this article.