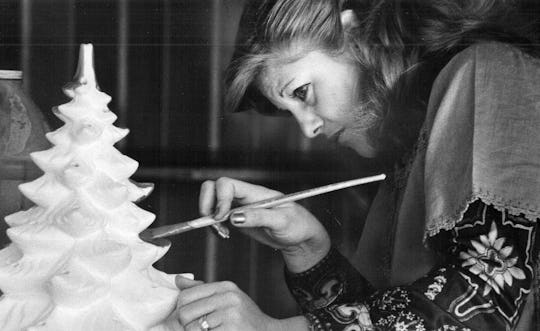 Denver Post/Denver Post/Getty Images
Ceramic Christmas Trees Are Making A Comeback
Truth is they never left.
Decorating for the Christmas season can sometimes be overwhelming. Especially when you have to pull bins filled with decorations from over the years out of your attic. Or untangle strings lights that you thought you'd neatly put away. But when it's time to add something new, ceramic Christmas trees are not only an uncomplicated addition to your holiday decor, they can become a meaningful remnant passed down in your family.
In the 1970s, the popularity of ceramic Christmas trees shot up among families. You may have seen your parents put one up year after year. Have you ever wondered where it came from, or why they took such care to keep it from being broken? It may have been handmade by grandma.
The first holiday ceramics were created in the 1940s by private craftsmen. By the '60s, women wanted to make their own keepsakes for Christmas, so they learned to create molds and hand paint it themselves, reported Today. Some of these ceramic trees played music and some lit up. And now a vintage piece is worth hundreds of dollars.
This year, you can start your own tradition by picking out a ceramic Christmas tree that will tell the story of your family's holiday experience. That can include letting each of your children handpick their own ceramic Christmas tree, and there are so many options like a carousel, tea light tree, night light, and plenty more.
Watching your babies be mesmerized by these ceramic Christmas trees is a chance to experience the wonder of this time in a different way.
We only include products that have been independently selected by Romper's editorial team. However, we may receive a portion of sales if you purchase a product through a link in this article.