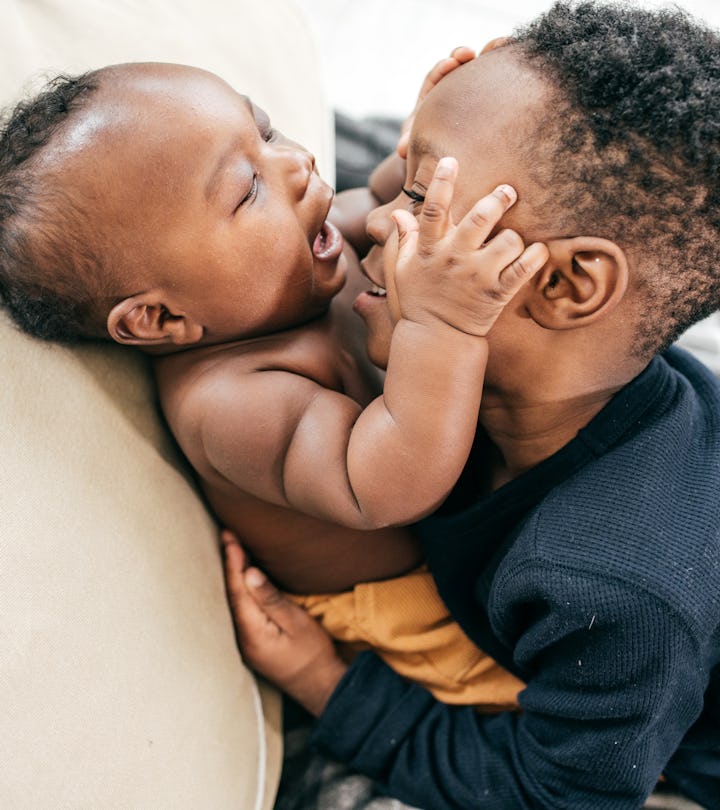 Getty Images
25 Real-Life Reasons Not To Trust Older Siblings Around The Baby
Sibling rivalry isn't pretty, but it can be pretty funny...
One aspect of having another child that people don't really discuss is The Talk expectant parents have with their pediatrician: the one where they warn you to be prepared, because your sweet, precious older child will misbehave with their younger sibling.
The doctor fixes you with a gravely serious, ominous look on their face, like a salty old sea captain warning a fresh-faced sailor of sea monsters off the coast of high Barbary. "Don't trust your toddler alone with the new baby!" they say — with good reason. From acting on their revenge fantasies to unintentionally harsh play, older children can get rough their squishy new siblings. (They probably won't, but you still have to be aware of the possibility.)
Adding to your brood can be an adjustment, even a struggle, for everyone in the family. But for older siblings, who didn't even want this stupid infant coming in and hogging all their attention, well, things can get dicey. Not always, of course. Sometimes an older child will take an immediate liking to a new baby; others, like my kid, will basically ignore them for the first couple of years. But since you never know exactly how it's going to go, you're going to have to be on high alert for a while, because sibling rivalry is normal. But normal or not, when you're talking about tiny maniacs who don't truly understand the world outside of their own self-interest or have a firm grasp of consequences, it is best to be aware!
But, if we're being honest, it's mostly just hilarious hilarious, as these 25 moms will show...