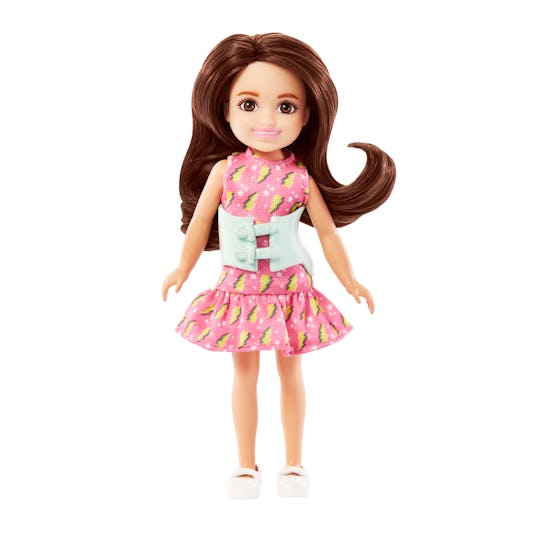 Mattel
Chelsea Doll With Scoliosis Is The Newest Inclusive Barbie Doll
Over 100,000 children are diagnosed with scoliosis in the U.S. each year, and now they can feel represented.
Barbie has become a toy line full of diversity over the years as they expand their collections to include dolls of different body sizes, dolls with prosthetic limbs, and dolls with alopecia and vitiligo. And now even the smallest members of the Barbie family are growing in inclusivity with the new Chelsea doll with scoliosis.
Scoliosis is diagnosed in over 100,000 children each year in the U.S., and Barbie has taken that fact and created an adorable version of Barbie's little sister, Chelsea, that includes a curvature in the spine and a removable back brace. The idea is for children with scoliosis to feel represented in the toys they're playing with, and the removable back brace is especially sweet as it normalizes the accessory for children who wear them, and can encourage those who are hesitant/unhappy about wearing theirs to feel more empowered. The Chelsea doll with scoliosis was created by Mattel with Board Certified Neurosurgeon and specialist in children's complex spinal disorders Dr. Luke Macyszyn, who helped ensure the accuracy of the doll.
This doll joins the line of Chelsea dolls from Mattel, including Chelsea dolls with wheelchairs. As a little sister myself, I feel a kinship with Barbie's little sister, and I love that so many young girls are feeling the same, especially those with physical differences that aren't often represented int heir toys.
The Chelsea doll with scoliosis is available at major retailers now, priced at $7.99.