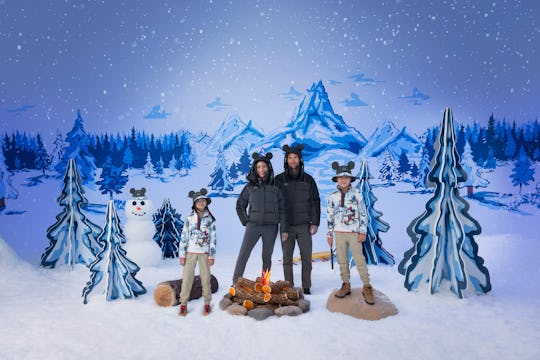 The Whole Family Will Love This Columbia x Disney Collab
Mickey Ears on a Snowqualmie jacket? Say no more.
One thing I really love about having three girls is the hand-me-downs. And out of all the things we've kept from when our oldest (now 9) was a baby, the things that have held up the most have been high-quality pajamas and her Columbia fleeces. Columbia's outerwear is known for being a perfect warm solution for those who are active outside in cooler temps and now the Columbia x Disney collection is bringing you all of your favorite characters straight to your favorite jackets and fleeces.
The collection includes sizes for kids and adults, and features fun pieces like half-zip fleeces with Mickey and his friends skiing, the classic Columbia Snowqualmie jacket with Mickey ears on top of the hood, and even Mickey ears on bucket hats for kids.
The collab is in honor of Disney's 100th anniversary, and is such a fun little touch to items you're already buying. The fleece in particular is so fun to me and features a very classic, vintage-feeling pattern with Disney artwork from the 1930s, and is also cute enough to wear at any winter or holiday gathering. If you and your partner aren't big on Mickey Mouse emblazoned on the front of everything you wear, the subtle ears on the Snowqualmie jacket are such a sweet little nod to the Mouse that allows you to actually get some stuff done around your house.
The pricing is also pretty on point with what you'd expect from Columbia. The Snowqualmie jackets are available in adult sizes for $300, the half-snap fleeces are $90 and available in adult and youth/toddler sizes, and the bucket hats for kids are $50.
The Columbia x Disney collab is available Oct. 16 online at Columbia and in some Columbia stores across the nation. You probably didn't need a reason to go on an outdoors adventure, but now you've for sure got one. Hot dog, hot dog, hot diggity dog!