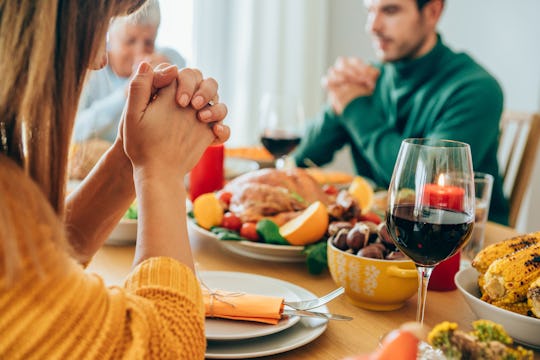 VioletaStoimenova/E+/Getty Images
Experts Explain How To Diffuse The 7 Most Common Fights Families Have At The Holidays
What should you do when stress is high and expectations are higher?
Oh, there's no place like home for the holidays... or at least that's how the song goes. In reality, family gatherings at holidays usually involve high stress levels and even higher expectations. The most common fights families have at the holidays typically start over something that's seemingly simple, like whether or not to exchange gifts or who's bringing the yams, but they're sometimes anything but simple to diffuse.
As much as I would love to just sweep my own family's disagreements under the rug for the sake of a holiday event, not everyone agrees. Why can't everyone just pass the mashed potatoes and get over it already, right? Avoiding family fights at the holidays may sound like an insurmountable task, but thankfully, experts have advice for how to dial down the drama when it comes to common disagreements.
In my experience, families usually fall into one of two camps when there's a disagreement: Argue and get over it or hold a grudge and fight until the end of all time. (OK. Maybe not that drastic, but until someone slams a door or refuses to attend Thanksgiving dinner.) The perfect storm of personalities though can definitely lend itself to a mixture of these scenarios, especially when you marry into a family who does it differently. The holiday season just amplifies it all — unless you learn how to navigate these situations in a healthy way.
If you, like Clark W. Griswold himself, want to have the "hap-hap-happiest" holiday season, read on to learn how to diffuse common family fights and actually enjoy yourself at a family gathering for once and for all.
Experts:
Dr. Sanam Hafeez, neuropsychologist in NYC, director of Comprehend the Mind
Dr. Marie-Elizabeth Ramas, MD, family physician in Nashua, NH