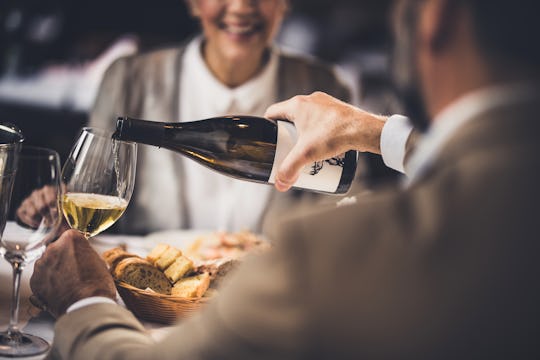 skynesher/E+/Getty Images
Reddit Scolds Single Dad Who Refuses To Tell His Dates He Has Kids For "At Least A Year"
Just try to wrap your head around what that conversation would sound like for just a moment.
A 38-year-old dad of two recently took to the popular sub-Reddit Am I The A**hole community to share his plans for jumping back into the dating pool. He admitted that he had no plans to disclose the existence of his children to anyone he was dating, and was shocked when a friend thought that might be less than ideal. No surprise here, people had notes.
According to the dad of two, he had announced to some friends his plans to try dating again in an effort to settle down, asking for a few of those friends to give his dating profile a look. One friend, a 28-year-old woman, pointed out that he should be telling the women he planned to date that he had two children from a previous marriage. His response?
"I thought this was a wildly inappropriate thing to say to me," he wrote in the Reddit post. "I asked her how she believed that was relevant and she tried justifying her position by saying things like 'it's only right to be upfront with any women I date.' I told her to worry about her own dating life seeing as she's not close to being married herself and that if a woman rejects me on the basis of having kids then she was shallow anyway and I dodged a bullet."
He went on to explain that yes, he did plan to eventually disclose the existence of his two children. Once he had been dating for "at least a year" and considered the person he was dating a "future spouse." He reasoned that he didn't "want to let someone know about my children and see them until they've proven themselves to me."
Try to wrap your head around what that conversation would sound like for just a moment. I think it's safe to say that there are plenty of people, parents included, who slightly embellish the facts on their dating app. But hiding the fact that you are fully a parent was too far for most Redditors.
"You're going to lie to a woman for at least 12 months that you have children but when you do this and she isn't happy with you having children you'll have dodged a bullet? YOU JUST WASTED 12 MONTHS OF YOUR LIFE AND HERS," wrote one user.
Another added, "So you want to waste a year of dating for a woman who is probably too shallow to date a guy with children? So a woman has to prove herself to you? A child is a huge part of the life of the parent and it is a very important fact a dating partner has to know."
"To me it smacks of insecurity about having kids in the first place… and it also suggests they're not a big part of his life," another commented on Twitter.
"This isn't reasonable," one more commented. "I can't imagine anyone reacting well to this after at least a year. It's not practical either."
His confidence that he would have the ability to date for an entire year without his children being involved or even mentioned does speak to a level of disinterest in their lives, which could well be a red flag for potential partners. Yes, dating as a single parent is complicated. But children are not a dirty little secret to be kept away from potential partners. It's not good for anyone.