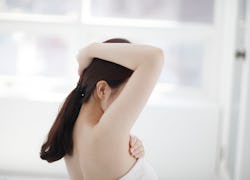 What Causes Dark Armpits & How To Prevent and Treat Them
RunPhoto/The Image Bank/Getty Images
You're used to seeing your body change before your very eyes, especially during the childbearing years. From wider feet to fine lines, you never know what's in store, and sometimes you don't know what's behind the change. Like suddenly dark underarms. What does it mean if you have dark armpits, and will you have them forever? These eight reasons you could have dark underarms might surprise you.
While there are some potential health risks associated with dark underarms, many people experience discoloration in that area of the body with no ill effects. A 2014 study by the Indian Dermatology Online Journal found that up to 74% of people suffer from dark armpits at some point in their life, and that risk factor increases depending on your age, weight, and race. Dr. Rachel Nazarian, a dermatologist based in New York, says this problem is usually just an inconvenience rather than a medical issue. She explained to Romper via email that it's important to remember that "darkening of the armpits alone is a simple cosmetic issue," but "if the texture is changing, becoming thicker or more velvety, then you should bring it to the attention of your dermatologist... It is important to remember that generally this condition is benign, and can even be hereditary." It's usually a combination of factors that indicate something more serious is going on.
But if you are just experiencing the discoloration and nothing else, you'll most likely be able to address the issue quickly. "Those who simply have darkening in the skin, but no other changes, can typically improve the skin by avoiding any trauma, using gentler shaving habits, and using lightening cream such as those that contain Kojic acid, licorice root extract, or even using gentle exfoliative agents that contain low concentrations of glycolic acid," says Nazarian.
Regardless, it's best to check with a doctor if you notice any sudden changes to your body before you self-treat, even if your underarms changing colors is your only symptom. Read on for the surprising things your body could be trying to tell you with darker pits.
Studies referenced:
"Efficacy of Low-Fluence Nd:YAG 1064 nm Laser for the Treatment of Post-Inflammatory Hyperpigmentation in the Axillary Area," Sahar Ghannam, Fatemah K Al Otabi, Konstantin Frank, Sebastian Cotofana, J Drugs Dermatol, 2017 Nov 1;1
"An approach to acanthosis nigricans," Meghana Madhukar Phiske, Indian Dermatol Online J. 2014 Jul-Sep; 5(3): 239–249
Experts:
Dr. Rachel Nazarian, a dermatologist based in New York
Adam Friedman, MD, FAAD, professor of dermatology
This article was originally published on