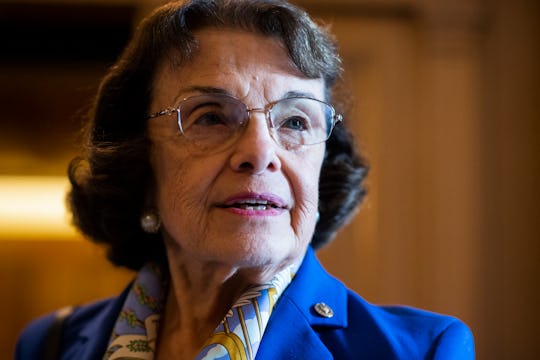 Tom Williams/CQ-Roll Call, Inc./Getty Images
Sen. Dianne Feinstein — Trailblazing Politician, Mother, & Grandmother — Has Died At 90
California's longest-serving senator was also a mother and grandmother.
California's longest-serving senator Dianne Feinstein has died at the age of 90. Feinstein was first elected into office in 1992 and went on to serve six terms. She made a name for herself as a trailblazer, a passionate advocate for gun safety reform, and a centrist Democrat who did her level best to work with Republicans. She was also a wife, a mother, and a grandmother.
Sen. Dianne Feinstein died at the age of 90.
On Friday, Feinstein's office announced that the senator had died at the age of 90. No further details were given, although Feinstein had been struggling with her health in recent months. In February, she missed votes due to a "health matter," according to her spokesperson at the time, and announced that same month that she planned to retire at the end of her term. President Joe Biden lauded Feinstein as "a passionate defender of civil liberties and a strong voice for national security policies that keep us safe while honoring our values."
"I've served with more U.S. Senators than just about anyone," Biden said in a statement. "I can honestly say that Dianne Feinstein is one of the very best."
In a statement, James Sauls, Feinstein's chief of staff, said in a statement that the senator died at her home in Washington, D.C., noting that "there is much to say who she was and what she did, but for now, we are grieving the passing of our beloved boss, mentor, and friend."
"Her passing is a great loss for so many, from those who loved and cared for her to the people of California that she dedicated her life to serving," Sauls said. "Senator Feinstein never backed away from a fight for what was just and right. At the same time, she was always willing to work with anyone, even those she disagreed with, if it meant bettering the lives of Californians or the betterment of our nation.
"There are few women who can be called senator, chairman, mayor, wife, mom and grandmother. Senator Feinstein was a force of nature who made an incredible impact on our country and her home state," his statemend continued. "She left a legacy that is undeniable and extraordinary."
Feinstein married Richard C. Blum in 1980.
The California senator was the newly-elected mayor of San Francisco when she married Richard C. Blum, a California financier who had supported her mayoral run, in 1980.
The couple first connected after the death of Feinstein's second husband, Bertram Feinstein, in 1978, and remained married until Blum's death in 2022 from lung cancer. Blum was father to three daughters, Annette, Heidi, and Eileen, and a grandfather to seven. He was also a stepfather to Feinstein's only daughter.
Her daughter Katherine Feinstein, born in 1957, is a judge.
Dianne Feinstein welcomed her only child, daughter Katherine, in 1957 with her first husband, former San Francisco Judge Jack Berman. Feinstein and Berman went on to divorce in 1958 after three years of marriage, and Katherine took on her stepfather Bertram Feinstein's last name when her mother remarried in 1962.
Katherine Feinstein was a Superior Court judge for 12 years and spent 36 years as a lawyer before being appointed to the San Francisco Fire Commission in 2020. She married Rick Mariano and together they welcomed daughter Eileen Feinstein Mariano, Dianne Feinstein's only grandchild, who was chosen as a member of the electoral college for the 2016 presidential election.
Dianne Feinstein's political legacy will live on in the history books, and also in her daughter and granddaughter.