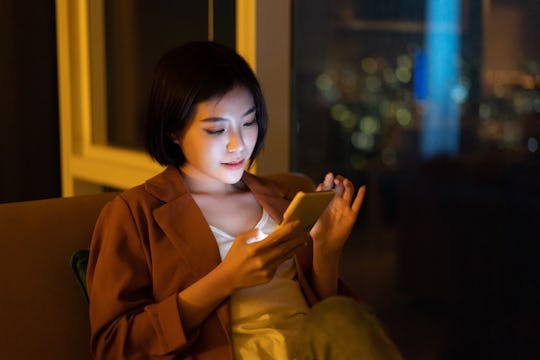 hxyume/E+/Getty Images
These Dirty Books On Kindle Will Give Your Library A Serious Upgrade
With the huge popularity of Bridgerton on Netflix, the show based on a series of books by Julia Quinn, people are desperate to find more books with that magic combination of actual plot and steamy encounters. Fortunately, even some of the dirtiest books on Kindle have incredible stories and writing that serve to make the sexy parts even better.
The amazing thing about sexy romance novels and erotica is that no two people read the same book. The way I imagine Bones, the main love interest from the Night Huntress series, is naturally going to be different from the way you'd imagine him. The stories will happen in the same order, but the visuals are completely unique to the individual. And there's a dirty book out there for absolutely everyone — from the ultra vanilla reader who just likes some straight sex thrown into her romance to heat things up, to the kinkier reader who loves the idea of a bisexual reverse harem situation wherein all the men pleasure her and each other. Trust me, there's a Kindle book for every kind of kink and quirk.
There's also such a huge range of diverse authors writing sexy stories, so everyone can find someone they feel like they can relate to. Romancelandia is experiencing a wonderful renaissance right now, and we are the lucky ones who get to read all of it. In this list, I have compiled all sorts of delights for you from a variety of authors with stories that span centuries, worlds, and even planets.
We only include products that have been independently selected by Romper's editorial team. However, we may receive a portion of sales if you purchase a product through a link in this article.
This article was originally published on