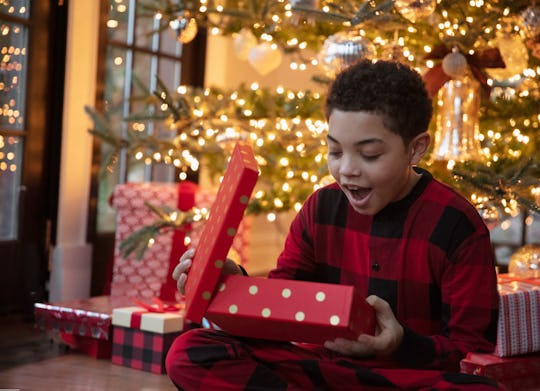 SelectStock/E+/Getty Images
14 Diverse Santa Pajamas, Be-Claus Christmas Is For Everyone
Merry Christmas to *all*.
All children adore Christmas time. There's hot cocoa and cookies, special movies, and cozy new PJs for Christmas Eve (not to mention the actual toys they've dreamed about for months).
But some kiddos may like Christmas a little better than others because they see themselves in all those seasonal movies and on their Santa pajamas. Children of color, however, don't often see people who look like them on holiday merchandise since Santa Claus and his elves are almost always depicted as white. Everyone deserves a pair of diverse Santa pajamas for representation, and for those who think, "Well, Santa is white," there's more to the story than that.
National Geographic reports that the real person Santa Claus is based on, St. Nicholas, was a Greek bishop born in the Mediterranean. Forensic anthropologists believe he would have had olive-toned skin, brown eyes, and a thinner build. The plump, jolly Santa that's famous today is a mashup of German children's figures that 19th century American poets popularized, and in 1822, Clement Clarke Moore's "The Night Before Christmas" cemented Santa in our minds as the big (white) guy in the sleigh.
Since Santa started out looking nothing like the version we know today, why not make Santas of all races a bigger part of Christmas? As Common Sense Media reports, seeing a beloved character who looks like them can help children of color experience "more positive feelings about their own status, appearance, and happiness."
So, this year, why not find your kiddo some Santa Claus pajamas that will help them feel seen and celebrated?
We only include products that have been independently selected by Romper's editorial team. However, we may receive a portion of sales if you purchase a product through a link in this article.