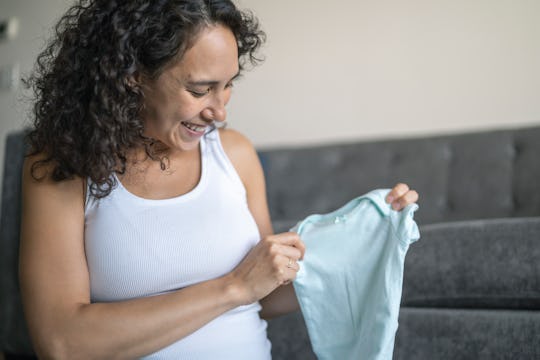 Fly View Productions/E+/Getty Images
These 11 DIY Baby Onesie Ideas Are So Cute & So Easy
Because a onesie is just a blank canvas.
If you're planning a baby shower or just looking to add a little interest to the sea of stark white onesies in your baby's drawer, you may be interested in checking out these 11 creative DIY onesie ideas. Don't worry if you're not a natural artist, (my Pictionary drawings are too "abstract", according to my husband, so I feel you) but you don't have to be a Picasso to make a really awesome DIY onesie.
From breaking out the puffy paint or the BeDazzler you still have somewhere, to using stencils or tie dying (more on how to do that later) there are tons of ways to make a cute onesie, and no one will have to squint their eyes and ask you what you drew.
Decorating onesies is a popular baby shower game, and for good reason; it's really fun and hands-on to get to make something, plus the parents-to-be will love having extras on hand (you can never have too many onesies). If the baby shower is virtual, the host could mail everyone a blank onesie plus a few fabric markers and have everyone mail their onesie back to the mom-to-be. Read on for fun DIY onesie ideas you won't be intimated to try.