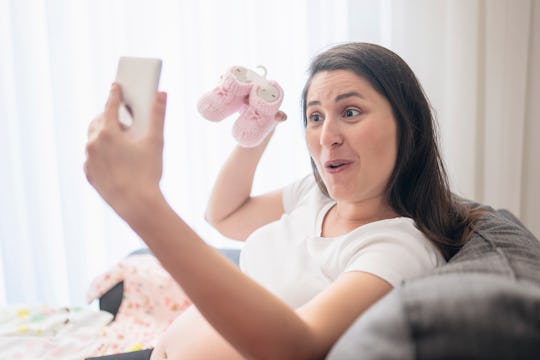 isayildiz/E+/Getty Images
Here's How To Throw The Best Virtual Baby Shower, According To Party Planners
It's a huge bummer to have to cancel your baby shower for any reason, especially a global pandemic. While no one will be surprised by the fact that your party is off, it might not have to be totally off, either. There are tons of ways to throw a virtual baby shower and it may end up being just as good as an in-person celebration because everyone can attend, and no one has to buy a plane ticket.
"The beauty of a virtual environment is that it's way more inclusive than in-person can ever be because there aren't childcare restraints, or people who can't attend because they're sick or immunocompromised," Jessica Brandes Kingrey, event planner and founder of Events By JBK tells Romper. "I think the nature of virtual events is actually really positive. In order to make the virtual party work, however, you need to do some pre-planning and set up the structure."
"If the party can't be postponed, then invite people to a virtual party!" Emee Pumarega, founder of EJP Events, tells Romper. "Most families have access to Zoom and Google Hangouts which can be used by any device."
In fact, both of these event planners have hosted virtual parties with great success, so they know a thing or two about which ideas work and which aren't worth trying when it comes to planning a virtual baby shower.