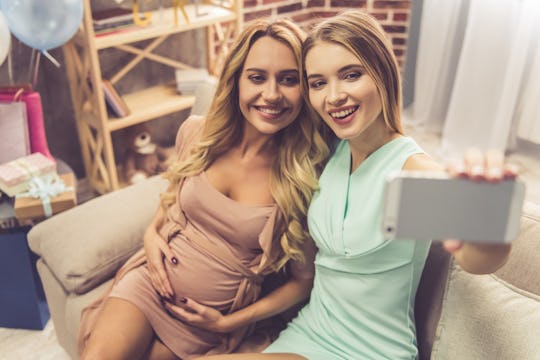 George Rudy/Shutterstock
7 Baby Shower Games That Don't Suck, Because Nobody Wants Their Belly Measured
It's stressful planning a baby shower. There's the theme, decorations, guest list, pregnancy-friendly menu and beverages — and the games. I've successfully thrown two of them, and I have to say, coming up with games was the hardest part. You want to make sure everybody is having a good time, and most importantly, that the mom-to-be isn't too embarrassed, feels loved, and is enjoying herself. When it comes to planning baby shower games, you really don't want to bore the guests or potentially humiliate your friend, so you have to find baby shower games that don't suck. Like, it's a requirement.
Though most baby shower games are expectedly cheesy, none are more horrible than the "guess how big mom-to-be's belly is" game. You take a piece of yarn and cut it to however big you think her belly is, and then you wrap it around her and the one closest to the correct width wins. The mom-to-be deserves more than a game where people are literally measuring how big she is or a game that requires eating melted candy bars from a diaper (gross). She deserves baby shower games that don't suck.
So why not think outside of the box and play games where you're creating stuff for the new baby or creating things the new parents can use? What about a baby shower for both parents? Her partner is going to be a new parent (or a new parent to another child) soon. And if her SO is a dude, they may even want to have more "dude" elements in the shower, whatever that may entail. No matter who's there, you definitely want baby shower games that don't suck or humiliate the guest of honor so your friend can have a really fun day.