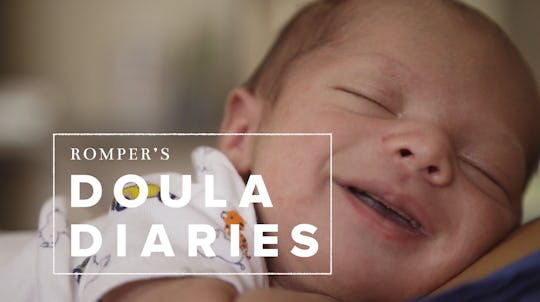 Janet Upadhye/Romper
People Think Doulas Are Only For Certain Women, But Our New Video Series Proves Otherwise
In the U.S. we're weird about birth: The first time most women witness one is when they're actually giving birth themselves. The whole thing happens with minimal information and almost no community involvement. But it doesn't have to be that way. This September, Romper is proud to launch a new video series, Romper's Doula Diaries, focused on the women who help other women give birth.
Doulas are non-medical professionals trained to help parents through the physical and emotional aspects of delivering a baby. That can mean a lot of things: pre-birth education on what labor and delivery entail; a "blessingway" ceremony that, unlike a baby shower, is focused on the mother (it also shows her that she is surrounded by supportive community as she brings her child into the world); physical and emotional support for the woman and her partner during labor and delivery; and very necessary, often-neglected postpartum care. When you go to give birth (usually in a hospital) you're surrounded by hardworking medical professionals who are responsible for your physical safety, but it can feel like their attention is elsewhere. As Emilie, one of the subjects of Romper's Doula Diaries put it, "A lot of times in birth, a lot of focus is on the baby. And doulas are there for the moms."
Season 1 follows Emilie and three other doulas as they approach this work with their clients, women from a variety of communities and backgrounds. There's a myth that doulas are a luxury available only to affluent white women, but the individuals in this series dispel that notion. Some of the mothers-to-be are first-time moms; others already have a child. What they share is the goal of having a more informed birth where they retain their autonomy and have someone in the room whose primary concern is their wellbeing.
Spotlighting doulas' work couldn't be more important right now. The invisibility of birth in the U.S. leads to all sorts of problems: misinformation, for starters, but it's bigger than that. Because the literal physical and emotional labor of birth isn't on most people's radars, it's easier to allocate less support to women during pregnancy and postpartum. The maternal death rate in the U.S. is the highest of any developed nation, and it is on the rise. There are thought to be several reasons for this, but they include limited access to prenatal care and hospitals' intense focus on the safety of the infant.
And there are cultural repercussions when birth is a closed-door thing. It is still permissible in our culture to make uninformed jokes about how devastated your partner will be by your postpartum vagina. (People seem much less concerned about how you will feel about it.) Many women have no access to breastfeeding instruction or support. In case you haven't heard, the U.S. has no federally mandated paid parental leave. No wonder the transition to parenthood can seem so daunting.
A big part of Bustle Digital Group's mission has always been to empower women with information about their reproductive health, delivered with lots of support and zero shame. Doulas share that mission. Fortunately, more and more women, including, increasingly, lots of younger women, are training to do this work, even when they don't have children themselves. Pro Doula, a New York-based company that trains doulas across the U.S. and Canada, tells Romper that of the over 1,600 doulas they trained in 2016, 65 percent were between the ages of 18 and 30. Jada Shapiro, a doula and birth and breastfeeding expert, trains approximately 125 doulas annually through Birth Day Presence, the Brooklyn-based doula training and childbirth education center she founded. "The trend in the last 10 years has been doulas becoming doulas before they are moms," Shapiro tells Romper. "It has completely shifted since I became a doula 15 years ago, when I was one of the few people who did not have children."
Romper's Doula Diaries tells the stories of doulas, the women they serve, and the invaluable work they do. Because at the end of the day, birth is unpredictable, and things don't always go according to plan. When that happens, as Emilie puts it, "Sometimes we're the most qualified person in the room."
Check out the trailer below and come back for the first episode, due September 13.