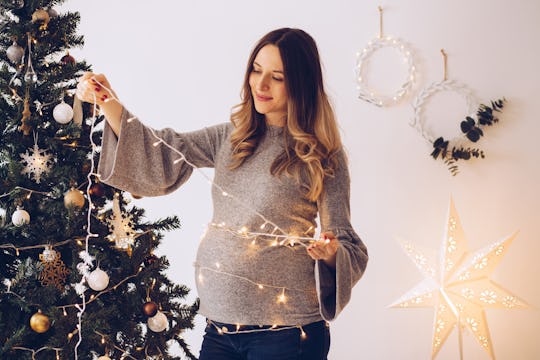 Shutterstock
Baby, It's Cold Outside With These Perfect Winter Baby Shower Ideas
When planning a baby shower, it's so wonderful — and a relief — when the theme just kind of presents itself. If your parents-to-be don't have a nursery theme or if they're open to whatever creativity you may have (no pressure), you may want to go with the season and try some winter baby shower ideas.
Think hot chocolate, snowflakes, glitter, buffalo plaid, garland, ornaments, the works. Man, I almost want to get pregnant again just to have a winter-themed baby shower. Almost. Your guests can get cozy by the hot chocolate bar before enjoying a holiday-themed cookie or snowflake-adorned cupcake while snowflakes float from the ceiling. What's not to like?
Plus, I feel like winter showers are even better for the pregnant guest of honor. Who doesn't want to enjoy a perfect cookie while avoiding the hot temps of summer?I had my baby in the spring, so I didn't really deal with any part of my pregnancy in the sweltering and humid southern summers, but I was hot enough in the end of August through September. Plus, when it comes to dressing a baby bump, winter clothes are basically perfect. Whether you go for it with a full Christmas theme or just have a glam snowflake party, these ideas are perfect for a winter-themed baby shower.
This article was originally published on