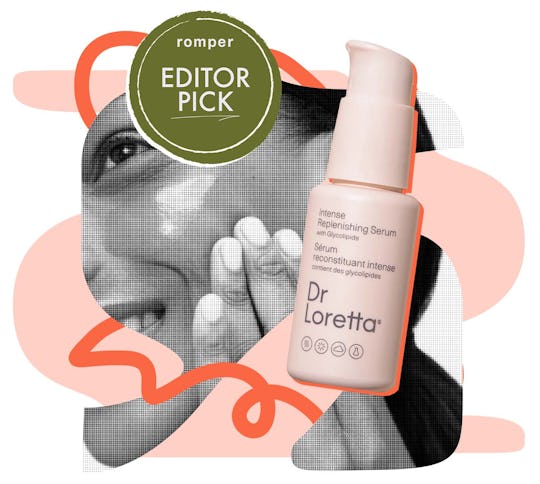 This Hydrating Serum Saved My Skin From Flaking Right Off My Face
I think my lizard days are finally behind me.
Had To Share
We may receive a portion of sales if you purchase a product through a link in this article.
'Twas the summer of 2023, usually an easy time for a dry-skinned gal like myself living in the hellaciously humid state of Florida. There's more than enough moisture in the air to keep my skin from feeling too tight and dull, unlike winter, when the central heat and drop in humidity drains it of all life. But after trying a new exfoliating toner, my skin freaked out. It stung, turned red, and clearly didn't agree with the toner's formula at all. I washed my face and kept my routine to the safe basics — plain moisturizer, Aquaphor, you know — but still, over a week later, my skin was so rough and dry, it felt like sandpaper. Even my old go-to products caused stinging and burning.
After the worst of my skin's bad reaction was over, I spent the next few weeks trying to heal the intense dryness left behind. I tried adding snail mucin, the much-hyped skincare product that took over TikTok this summer, then a hyaluronic acid serum. I tried oils (rosehip and jojoba) and thicker creams meant to soothe irritated skin. Nothing was helping my skin return to normal, and it was so dry and flaky it was uncomfortable. Enter: a PR email, offering to send products from a few different brands, including Dr. Loretta skincare. When I opened their package and saw the Intense Replenishing Serum, I slapped it on immediately, hoping against hope it might imbue some moisture back into my lizard hide. Not only did it feel amazing, but the next morning, my skin was...healing? No way. I used it again the next night and within two days, my skin was restored. And actually, even better than before. This serum and I have been in a committed relationship ever since.
Stats
Price: $70, or $63 if you join their Subscribe & Save plan
Sizes: One size, 1 fl. oz.
Who it's for: The brand says it's ideal for all skin types, and I find it's perfect for me as a super dry lizard woman.
When to use it: Morning and night after cleansing, or as a primer for foundation
Pro-tip: The packaging says you can use this serum twice daily, but I get great results using it just at night. This obviously helps my bottle last longer, and layering on the moisture before bed helps me wake up glowing without having to wait for the product to sink in before applying makeup.
The ingredients
As with any skin care product, the Intense Replenishing Serum contains a bunch of ingredients with names that don't mean much if you're not a cosmetic chemist. These are the ones that really matter, according to the brand:
Vitamin E: An oldie and a goodie, vitamin E (a.k.a. tocopherol) is an antioxidant that improves your skin's overall health.
Vitamin F: This compound calms your skin, and repairs and supports your skin barrier.
Glycolipids: Little hydrating molecules to boost skin's moisture content.
Lipochroman: An antioxidant that guards your skin against free radical damage, which hopefully helps reduce the appearance of dark spots, fine lines, and wrinkles over time.
The packaging
This serum comes in a little bottle with a pump, which I much prefer to the dropper lids some serums use. Those can be a pain to unscrew and dispense when your hands are slick with other products, and I don't have to worry about the bottle tipping over and spilling.
Other than that, the packaging isn't too remarkable — a wee matte plastic bottle in an inoffensive, pastel peach hue. I wish the bottle was a little heavier or more luxurious feeling for the price point, but this packaging is recyclable, which is more important.
How I use the Intense Replenishing Serum
I typically only use this serum once a day as part of my nighttime routine. I cleanse my face (usually with the Isla Beauty Day Melt balm, another gem for folks with dry skin), pat dry, and then apply the Dr. Loretta serum. I finish up with my moisturizer and a retinol cream every now and then. Occasionally I might dab the serum on in the morning if some part of my face is flaky, but using it twice daily on the regular makes my skin feel too hydrated and oily.
The serum is easy to work with. It's a silky, syrupy texture that feels great when you apply it, and it absorbs within a minute or two, at least enough that you can swipe on your moisturizer of choice and call it a night. If you're curious about the products the Intense Replenishing Serum has been pairing well with for me, here's my PM skin care lineup:
Pros & cons
Pros:
Dr. Loretta products are cruelty-free and 100% vegan. The brand is also family-run and female-founded, if those things are important to you.
All skin care should come in bottles with pumps! This serum does, and the bottle is recyclable.
It brought my skin back to good health after a bad reaction to another product, and has helped me maintain a more hydrated face than ever before.
Cons:
That price tag makes my butt clench. Some of my other favorite products are drugstore, so I tell myself it all balances out (girl math).
I'm not sure it'd make a great primer for folks with oily skin types. With how well it hydrates my dry skin, I have to wonder if using it under makeup on oily skin would just make your foundation slide right off.
The final verdict
As someone who wants glowy, healthy looking skin (don't we all?), it's frustrating having to constantly layer on serums, moisturizers, oils, and more trying to keep some hydration in my skin. Dr. Loretta's Intense Replenishing Serum let me trim my routine way down to just cleansing, serum, and a moisturizer, so now I have room to add in things like retinol when I want (and keep it simple when I don't). I love that this product makes my skin feel truly hydrated and healthy, through and through, and it remains feeling that way all day long.
The TL;DR
Am I pissed I have to spend $70 on this serum? Yes. Will I continue to repurchase it? Absolutely.
Had To Share highlights the products and finds that Romper editors and contributors love so much, we just had to share in the group chat.