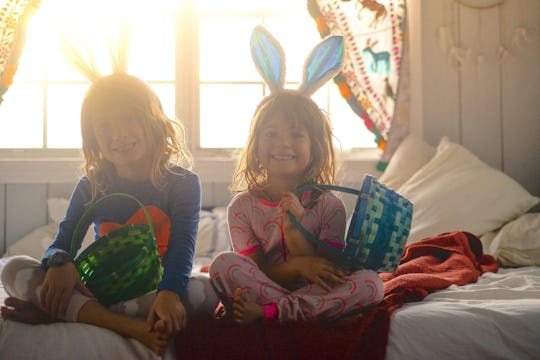 Lisa5201/E+/Getty Images
21 Adorable Easter Pajamas For Babies, Toddlers, & Kids
It's hard to believe, with the world just beginning to thaw, that Easter will be celebrated on April 4 this year. With the bunny's arrival on the horizon, you might be thinking about how to fill your childrens' Easter baskets or where to hide candy in the yard. But don't forget to buy them an appropriately adorable Easter sleepwear set. The holidays are ideal times to dress little ones in super cute jammies and these 21 Easter pajama set options for babies, toddlers, kids, and adults are egg-scellent.
Now before you dive in, a few words: The bunny brand is strong here with plenty of hare-themed ensembles. But these are in no way limited to just children's PJs. In some cases, parents can even get in on the fun. Thanks to a few brands, you can buy matching PJ sets to go with your kids looks. And as an additional bonus point, a few of these sets are actually a two-pack, so you have a backup plan when your kiddo discovers their chocolate chick candies before bed and stains their new jams. Just trying to have your back, parents. So have a look and shop soon. As you know, Easter will be hare today, gone tomorrow.
We only include products that have been independently selected by Romper's editorial team. However, we may receive a portion of sales if you purchase a product through a link in this article.
Ready to shop? Choose from any one of the above to ensure a hoppily ever after Easter for your crew.
This article was originally published on