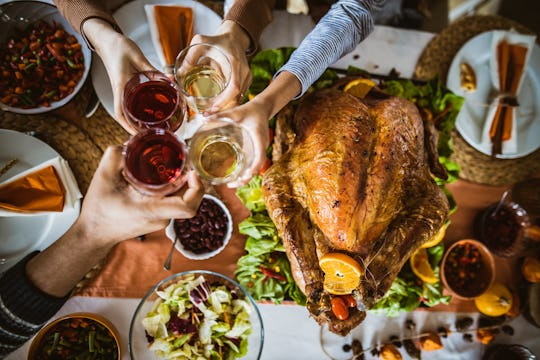 skynesher/E+/Getty Images
9 Classic Thanksgiving Sides You Can Prep In Advance
Like, up to three days in advance.
Thanksgiving is my favorite holiday. Sandwiched right there between fall and Christmas, it's all of the excitement and fun of the tail-end of the year without all the stress. Yes, I know that Thanksgiving can be stressful — I host a big family for dinner, too — but there are so many ways to control that stress, like having a bunch of make-ahead Thanksgiving sides prepped in advance.
Even if you're not hosting, who wants to spend Thanksgiving morning getting kids ready to go to grandma's house (in nice clothes, no less), getting yourself ready, and making a green bean casserole? You deserve to watch the parade in peace with a hot cup of coffee (we're fantasizing here, just go with it) and know that there's a whole Thanksgiving side dish waiting for you in the fridge. You can either throw these make-ahead Thanksgiving sides in the oven before you leave your own house, or let them get to room temperature on the drive and then pop them in your family's oven when you get to your destination. That's the beauty of all of these recipes.
Bonus: these are kid-friendly and delicious Thanksgiving side recipes. No fuss, no weird flavors, no food competition vibes — just good, classic, yummy make-ahead Thanksgiving sides. Prep some of these up to three days in advance and win Thanksgiving for yourself.
Whether you're trying to save some time to actually enjoy Thanksgiving or just want to get ahead of the game, these Thanksgiving sides are perfect for prepping in advance. Bonus: they all reheat beautifully for leftovers.