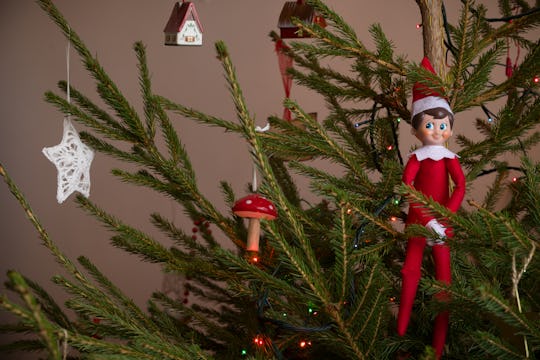 Shutterstock
These 20 Elf On The Shelf Return Ideas Are Super Cute & Stress-Free
It's that time of year again!
For young children, seeing their own Elf on the Shelf is the official start to the holiday season. So naturally there needs to be a little pomp and circumstance surrounding their annual return, but you also don't want to spend a ton of time taking what is essentially a doll out of its box, either. These 20 Elf on the Shelf ideas can give the little red guy or gal a welcoming that's worthy of Santa — and won't be stressful, either.
Timing is everything when it comes to the Elf's return. You can either have him come home right after the Thanksgiving dishes are done — or you can, um, have your Elf be a little tardy for the party and appear a few days before Christmas. No matter when they show up, one thing is for certain: you want to make their entrance magical and memorable, not like, "Oh, there's that stupid Elf mixed in with all the broken tree lights from last year."
That's why you should time your Elf's arrival to when your kids aren't around (or awake), so that it's a pleasant surprise to see them once again. Otherwise, you're in for a lot of disappointment — and potentially a whole lot of questions regarding Santa Claus that you might not be prepared to answer. To avoid any issues, try one of these Elf on the Shelf come back ideas, and start the holiday season right.
This article was originally published on