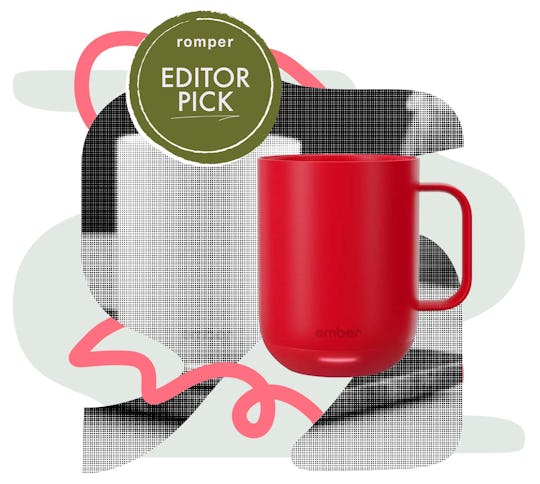 The Ember Mug Is The Only Reason I Ever Had Hot Coffee In The Newborn Days
I'm in a committed relationship with this mug.
Had To Share
We may receive a portion of sales if you purchase a product through a link in this article.
One thing everyone knows about my husband: he's a bonafide iced coffee girl. It doesn't matter what the weather's like or what time of year it is, he is all about a cold caramel latte. So, when his company sent him home with an Ember mug as their end-of-the-year gift, it most definitely rattled around in the back seat of his truck for a few weeks before he mentioned it to me.
When he did, I immediately claimed it for my own and made space for it next to our coffee machine. Now, it's my everyday mug. Like, if they made me into a Barbie tomorrow, the Ember would be the accessory I came with (well, that and bike shorts). And it just so happened to come into my life at the perfect time: in the first year of parenthood, when my baby was either eating, contact napping, or crawling toward something deadly at all times. When you're working from home answering emails, the dogs need to go out to pee, and you're trying to scarf down a makeshift breakfast all while keeping your baby alive, your coffee tends to get cold long before you're done with it. But now mine just... doesn't. What a time to be alive.
Stats
Price: $129.95 or $149.95, depending on the size
Sizes: 10 oz. or 14 oz.
Colors: Black, white, gray, or red
Who it's for: Fans of coffee or tea who find theirs always gets cold before they're finished with it.
The specs
The Ember mug comes with a charging coaster that plugs into a wall outlet. When you're ready for coffee, just add it to the cup (or, I place mine directly onto my one-cup coffee maker). You'll see the LED light on the base of the mug start blinking, warming itself and your drink up to the perfect temperature. (You choose your ideal temp, anywhere between 120 and 145 degrees Fahrenheit, using the accompanying Ember app.) It'll keep things nice and steamy for up to an hour and a half by itself, or all day if you keep it sitting on the coaster.
The Ember app for iOS and Android allows you to customize your mug, like setting the temperature you'd like your drinks to be kept at, and picking a color for the mug's LED light. You can also set custom temperature parameters for different types of drinks, so if you like a piping hot macchiato in the morning and warm tea in the evenings, your Ember will respond accordingly. (It will also recommend the perfect drinking temp for a latte or cappuccino in case, like most people, that's not something you just happen to know.) It even has a tea timer to alert you when your tea is done steeping and ready for sipping.
Similar products
There are plenty of other heated coffee cups on the market if something about the Ember doesn't jive with you. For starters, heated mugs with charging coasters can run as low as $39.99 from brands like ionMug, available at Walmart, and Cosori. Both of these come with lids, if you're worried about spills or sloshes, and the Cosori's stainless steel design is a plus if you're worried you might scratch the Ember's ceramic coating. If you don't want all the bells and whistles, you could also buy a heated mug coaster and use it with your existing mug collection. (Don't we all have a mug collection?)
The brand SmrtMugg sells their take on the Ember mug, the SmrtMugg Pro, for the same price as Ember's cup. Their LED display is a little more detailed if you want to know when your mug is losing battery life, and it comes with a lid. All of these options have comparable battery life to the Ember as well. So, definitely think about what matters to you when shopping for the heated coffee cup of your dreams. One of them will check all your boxes.
Pros & cons
Pros:
I've had the Ember mug for around three years and has no signs of wear and tear (other than a little coffee staining inside because it's white).
You can use the app and all its fancy features, or never download it at all. It's cool, but not required to use if it's not your thing.
The mug has a weighted bottom, so it doesn't tip over with my big dog and toddler bumping around the coffee table.
I've been able to seriously cull my mug collection and make room for other things in our cabinets.
Cons:
It's hand-wash only.
You have to wash it with a soft sponge to prevent scratches on the ceramic coating.
Chances are you'll only have one, so you have to wash it daily instead of just putting dirty mugs in the dishwasher and grabbing a new one. (This was not a problem when I had to wash bottles every day anyway, but now that the dishes can slide for a day or two, sometimes I forget and wake up to a dead, dirty mug.)
Compared to any old coffee mug, it's pricey.
The final verdict
Being caffeinated can feel like a matter of life or death when your baby woke up repeatedly the night before (and like, a hundred nights in a row before that). So, having a cup of coffee that stayed hot through feedings and diaper changes, letting the dog out to pee, and all the other morning hubbub, without running to the microwave to reheat it, was so damn nice. Maybe this is a little philosophical sounding to describe a heated mug, but when I was so invested each morning in taking care of my baby, my job, and our house, it felt nice to have a stupid little cup taking care of me. While I may have gotten my Ember as a gift, if it ever breaks, I'm definitely buying another.
The TL;DR
You thought Judy Jetson lived in the future? Even she doesn't have a mug like this. It guarantees my coffee is hot all morning, even with emails to answer or a toddler to chase around the house.
Had To Share highlights the products and finds that Romper editors and contributors love so much, we just had to share in the group chat.